Dover, VT – For the past six years, southern Vermont's Deerfield Valley has been home to one ski resort: Mount Snow. The behemoth owned by Peak Resorts had years earlier swallowed up nearby Carinthia and integrated it into its own trail network, and spun off nearby Haystack which has nonetheless remained closed. Reports have surfaced, however, that Haystack's lifts may spin once again.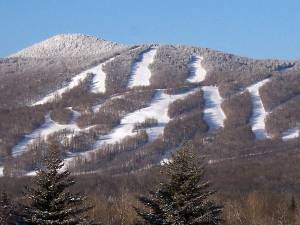 After an earlier unsuccessful effort to turn Haystack into an exclusive private playground, another members-only plan has surfaced. Vermont Public Radio is reporting that Connecticut businessman Jim Barnes, owner of the Hermitage Inn in West Dover, purchased the Haystack ski area and golf course in October for $6.5 million and plans to reopen the ski area, with runs spilling right to the Hermitage's door.
Barnes' members-only plan includes 450 planned homes and condos with prices starting at $650,000. He hopes to have the ski area open on weekends beginning later this month, although the slopes will be open only to prospective members and residents of Wilmington and Dover, to whom Barnes will offer 250 lift tickets per day at reduced prices.