London (ON), Canada – Canadian alpine ski racer Julien Cousineau is very optimistic about his recovery after undergoing successful surgery to repair a torn anterior cruciate ligament (ACL) in his left knee in London on Wednesday.
Cousineau, who turned 31 on Tuesday, suffered the knee injury in a World Cup slalom race in Adelboden, Switzerland, on Jan. 8.
"I'm feeling pretty good," Cousineau said. "The doctor was really happy with the surgery and he said to start weight bearing as soon as I can. So now I can try to put weight on it every day, so it's good.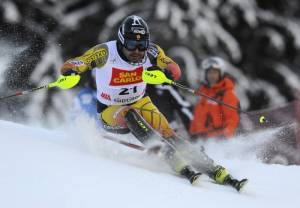 "Actually, it surprised me, it's the best I've felt after surgery in a long time."
Cousineau, whose knee gave out beneath him in the first run in Adelboden, is very familiar with the rehabilitation process, having torn his ACL in his right knee in 2004.
"I know what to expect," said Cousineau, of Lachute, Que. "My first ACL (recovery) went really quickly. I was back stronger than the year before when I started summer training.
"I don't want to say it's going to go as well as that, because it was pretty crazy how good it went, but I'm going to base myself kind of off that, and at the same time it could happen that it's a little slower, but it's all good and I've got some good people surrounding me that will keep me in line."
Cousineau will have the support of his wife and get to spend a little extra time at home.
"Normally we don't get to see each other that much in the winter," Cousineau said of his wife. "At least if you're injured, you have someone home to help you and support you and it's going to be a big difference from the last ACL I had done when I was alone."
Cousineau, whose best World Cup results this season were 15th- and 17th-place finishes in Flachau, Austria, and Beaver Creek, Colo., respectively, returned home to Quebec on Thursday and is set to start physical therapy today.
"I'm just excited to start working," he said. "I'm happy the surgery is done and ready to start working and rebuilding and get back on the hill with my teammates."
The surgery was performed at the Fowler Kennedy Sport Medicine Clinic in London by Dr. Robert B. Litchfield.
"The surgery went very well and his injury has a good prognosis," said the Canadian team doctor, Dr. Stephen French.  "Julien is in good spirits and is looking forward to rebuilding his strength and form for a successful return to the World Cup next season."
Hélie sustains ankle fracture
Another Canadian World Cup racer, Louis-Pierre Hélie of Berthierville, Quebec, fractured his ankle this past weekend in Wengen, Switzerland.
The 26-year-old competed in the super combined on Friday and in the downhill on Saturday but did not finish either race.
Hélie will be returning to Canada for further evaluation.
"Louis-Pierre Hélie unfortunately sustained a fracture of one of the bones of his ankle joint from a crash in Wengen this past weekend," said Dr. French. "Initial investigations by medical staff with the team in Europe have concluded he is currently unable to race. He will be returning to Canada for further investigations and definitive treatment.  His return to competition for the remainder of the season is yet to be determined."