Kitzbuehel, Austria – Swiss ski racer Didier Cuche has announced that he will retire from the World Cup circuit at the end of the current season.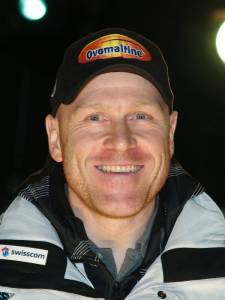 At the age of 37, Cuche is one of the oldest skiers to ever start a World Cup race. Despite this, he's the current defending World Cup champion and is presently sits in contention for a fifth World Cup downhill title, which would match a record set by Austrian great Franz Klammer. Cuche won the title in 2007, 2008, 2010 and 2011.
Cuche made his announcement in Kitzbuehel on Thursday.
"Kitzbuehel represents something for me and I decided to make my decision here," Cuche said. "It's not a decision that I took last night or today."
In 2011, Cuche became the oldest race winner in the history of the World Cup by winning the Hahnenkamm downhill in Kitzbuehel at the age of 36 years, 159 days. Cuche's most recent downhill victory came at the Lake Louise Winterstart this past November in Alberta, Canada, extending his age record to 36 years, 209 days. He has been on the World Cup podium a total 61 times, 17 of which were at the top spot.
Earlier in 2009, Cuche became the oldest ski racer to win a World Championship medal, this time in super G.
Despite his success in the World Cup and at the World Championships, Cuche has never won an Olympic gold medal. He won a silver medal in super G at the 1998 Winter Games in Nagano, Japan, tied with Austrian Hans Knauss and losing out to Knauss' teammate, Hermann Maier.