Vernon, NJ – In an opinion published on Monday a New Jersey appellate court has upheld the dismissal of a personal injury lawsuit against Mountain Creek Resort, Inc., operator of the state's largest ski resort. In and of itself, such a dismissal is not noteworthy. However, the factual pattern presented could have far-reaching consequences for the ski industry in New Jersey and nationwide.
The court's decision states that on January 4, 2009, 2008-09 season passholder Derek Dearnley was hurt in a snowboard accident at Mountain Creek. He suffered serious injuries which required three surgeries, six weeks in the hospital and weeks of rehabilitation. Dearnley asserted his injuries were the result of Mountain Creek's negligence and breach of duty under N.J.S.A. 5:13-1 to -11 (the "Ski Act"). In October of that same year, well within New Jersey's two-year statute of limitations for personal injury claims, Dearnley filed suit against Mountain Creek in an attempt to recover damages for the injuries he sustained.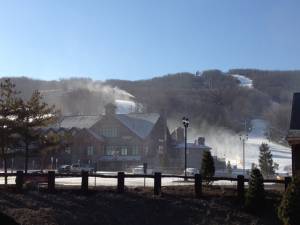 Presumably, however, Dearnley had recovered from his injuries in time to snowboard during the 2009-10 season because in December of 2009, he applied for a season pass for the coming winter. Contained in the season pass agreement was a standard release, which read, in pertinent part:
I FURTHER RELEASE AND GIVE UP ANY AND ALL
CLAIMS AND RIGHTS THAT I MAY NOW HAVE
AGAINST MOUNTAIN CREEK RESORT, INC. THIS
RELEASES ALL CLAIMS, INCLUDING THOSE OF
WHICH I AM NOT AWARE AND THOSE NOT MENTIONED
IN THIS RELEASE. THIS RELEASE APPLIES TO
CLAIMS RESULTING FROM ANYTHING WHICH HAS
HAPPENED UP TO NOW.
This provision would prove pivotal in barring Dearnley's claims.
The court held that even though Dearnley had already filed his lawsuit against the resort, his execution of the following year's season pass agreement containing the capitalized release above barred him from pursuing the pending lawsuit against the resort. Had Dearnley instead chosen to obtain a season pass at nearby Hidden Valley for 2009-10, his lawsuit could have proceeded.
The court's decision could have two far-reaching impacts. First, ski resorts will almost certainly update their season pass agreements to contain broad retroactive releases if they do not already contain them. Second, skiers and snowboarders should be conscious that if they have sued or intend to sue a ski resort for any reason, that in signing a season pass agreement they may unwittingly waive any claims they might have had.
In effect, the decision gives injured skiers a choice – sue the resort at which you were injured or obtain a season pass elsewhere.
Of note, the court did not reach the issue of whether exculpatory clauses (advance releases of liability) in the season pass agreement were enforceable. Consequently, New Jersey ski resorts are left in the precarious situation of not being certain of whether the protections afforded by such clauses are effectual. However, the lesson to skiers is clear. If you have been injured at a ski resort, be careful when signing a season pass agreement for the following winter.
Author David B. Cronheim, Esq. is the Chief Legal Correspondent for First Tracks!! Online, an attorney at Norris, McLaughlin & Marcus, PA in Bridgewater, N.J., and author of the ski law blog – Ski, Esq. Please feel free to contact the author at DBCronheim@nmmlaw.com.