Calgary (AB), Canada –Brian Bennett, a World Cup veteran and pillar of the Canadian ski cross team, has announced his retirement from ski racing.
"Big Bad" Bennett – a nickname that seems a bit ironic for an athlete widely regarded as one of the nicest guys on the circuit – is hanging up his skis after seven years of racing at the World Cup level. The native of Quesnel, British Columbia, who got the handle "Big Bad" from a ski coach when he was a teenager, now plans to go to school and pursue a career as a licensed surveyor.
Bennett is one of the pioneers of a relatively new sport. A former alpine athlete who skied with the Whistler Mountain Ski Club and was the 2002 overall Coupe Pontiac GMC Cup champion, Bennett tried ski cross in 2005 just three years after the International Ski Federation (FIS) adopted it as a ski sport.
"I figured, 'hey, this looks like a ton of fun, sign me up,' " said Bennett, 31, from his family's home near Quesnel.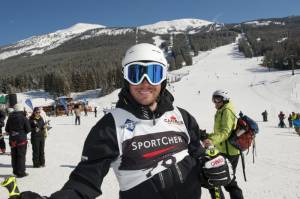 Reigning world champion and two-time X Games gold medalist, Chris Del Bosco, of Montreal, Quebec, remembers skiing with his teammate before the Canadian ski cross program existed.
"We'd done a lot of X Games together prior to the team," said Del Bosco. "Back in those days we were just kind of doing it on our own, trying to figure it out, and we would just push each other and learn from each other, so he's been a huge part of all of it for me."
When a Canadian team was formed in 2007 with the goal of creating medal contenders for the 2010 Vancouver Olympic Games, Bennett and Del Bosco both were selected, as well as Ashleigh McIvor, of Whistler, British Columbia.
"When it was announced that ski cross would be included in the FIS freestyle world championships in 2007, Brian and I were called to represent Canada," recalled McIvor. "He helped me every step of the way, from making me wax my skis, to constantly reminding me what we were working toward and why we were making all of the sacrifices we were making."
Bennett finished 12th at the 2007 World Championships in Italy, but the following year he narrowly missed qualifying for one of three men's spots on Canada's Olympic team.
"When Brian missed out on qualifying for the Olympic team, he immediately stepped up and led the team into a strong collective performance by working his ass off behind the scenes, doing things like testing the track, ensuring it was going to run well for us and filling us in on how it was coming along so that we could prepare adequately for it," said McIvor, who went on to win Olympic gold, becoming the first woman to do so in the history of the sport.
A testament to his team-first attitude, Bennett's favorite memory from his years on the national team is of McIvor's win.
"The whole Canadian ski cross team was put together and the application for funding came to win a gold medal in Vancouver," said Bennett. "Ashleigh was one of the original members of the team and we all worked pretty hard to achieve (her gold), through training, testing – everything we did was put towards winning a gold medal at that Olympics."
Bennett's best results include fifth- and sixth-place finishes at the Winter X Games in Aspen, Colo., in 2009 and 2011, plus six top-10 finishes at the World Cup level.
"He is the kind of guy you want on your team," said Dave Ellis, Alpine Canada's director of sport for ski cross. "Just because he had the right attitude and always got people fired up. He was equally happy for others (as he would be for himself) when they did well.
"He has a super positive attitude all the time. He loves having fun and skiing is a big part of his life, and I think he was a good balancing act for the team. He was always pumped to go out and train and race."
It is Bennett's dedication to his teammates and the sport people associate most with his career.
"It's been great having him as a teammate for these last five years and the contributions he's brought to the team have been immeasurable," said Dave Duncan, of London, Ontario, who has also been part of the ski cross team since 2007. "Brian was there at the beginning to make sure this team was put together properly and has been involved in a lot of unsung work to make sure the team has continued success."
"Just respect," said Bennett when asked about his winning attitude. "Respect for one another goes a long way and then everybody's happy because nobody is stepping on anybody else's toes. That was a big thing for me and as long as that was there and everyone was smiling, we were rocking."
During Bennett's time on the World Cup circuit, the Canadian ski cross team captured four Nations' Cups in a row, the fourth during this past 2011-12 season.
"Brian's positive attitude helped Canada build the most successful ski cross team in the world," said Max Gartner, president of Alpine Canada. "He is a team player and was an excellent ambassador for both Canada and our sport. We wish him all the best and hope he continues to be involved in ski racing for years to come."
"I just wanted to see my teammates succeed, that was the biggest thing," said Bennett of his career. "Just as much as I wanted to."
Racing in 50 World Cup events over seven years, Bennett took his role of ski cross ambassador just as seriously as being an individual competitor, doing as much as he could to help get the next generation of ski racers excited about the sport he loves.
"He's always been there at camps helping kids in development situations and helping coach younger athletes in the sport," said Ellis.
An outdoor enthusiast who enjoys mountain biking and dirt biking, "Big Bad" Bennett plans to spend the summer "playing" as much as he can – mainly golf – before pursuing his career aspirations in the fall.