Sun Peaks (BC), Canada – Locals residents and guests alike are anticipating the Second Annual Bluebird Banked Slalom this Sunday at Sun Peaks Resort. Registration spots are still available, however participants must pre-register.
The brand new race course on the newly dubbed "Hully Gully" is in great condition and will be ready for practice runs and inspection today. Official racing begins at 9:30 am on Sunday.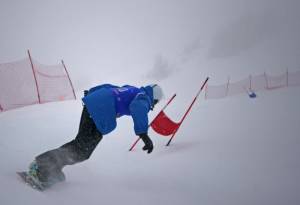 Sponsored by the Bluebird Day Fund, a local organization in memory of rider Bryn Taylor, this event has become the highlight of many local residents' winters and brings out an amazing group of competitors and spectators. The Bluebird Day Fund's mission is to provide local riders and park skiers with support and resources to assist their growth and development in their respective sports.
Open to both skiers and riders 19 years of age and over, participants will compete against the clock on a closed banked slalom course. Each competitor will get one or two timed runs, dependent on the weather. Fun is the main objective of the race so everyone with a little skill is encouraged to register and participate.
Registration is $75 and includes a swag bag with souvenir T-shirt and pint glass, a beer and burger for lunch and entry to the 'Bluebird Banked Slalom After Party' at The Club. Also, $15 from every entry will go to the Bluebird Day Fund. Advance registration is required and takes place at Guest Services located in the Village Day Lodge or by calling (250) 578-5542.
Racer package pick-up and waiver signing takes place in the resort's Village Day Lodge breezeway from noon to 3 p.m. today, and from 8:30 a.m. to 9 a.m. on Sunday.