Whistler (BC), Canada – A father and daughter camped on Blackcomb Glacier as part of a backcountry skiing trip died on Saturday night when what has been described as a bear-sized boulder came crashing down onto their tent.
A 10-year-old female and her 49-year-old father, both of North Vancouver, were reported overdue and missing at around 6 p.m. on Sunday after missing their scheduled check-in several hours earlier.
"The report was that a father/daughter duo had gone up Blackcomb Mountain on May 11th to camp out overnight and ski tour," advised Sgt. Knapton, operations NCO for Whistler RCMP. "They were to check in on the 12th around 1600 hours. When they failed to check in as planned we received a call."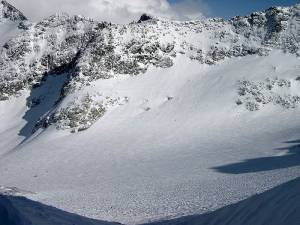 Whistler RCMP activated local search and rescue and coordinated a search in conjunction with Whistler Blackcomb Ski Patrol.
"The search ran from just after 7 p.m. until approximately 11 p.m. when it was suspended for the night due to safety reasons," noted Sgt. Knapton. The search was reconvened at first light on Monday using multiple teams from Whistler, Squamish, Pemberton and Lions Bay, and included an air component.
At approximately 11:30 on Monday morning searchers located a tent above an area known as "The Windlip," near the Blackcomb Mountain ridgeline a half-kilometer hike from the top of Whistler Blackcomb's Excalibur gondola, which the pair had ridden at around 11 a.m. Saturday.
"The tent was located at the base of a rock face," advised Sgt. Knapton. "From our investigation it appears that a large boulder fell from the rock face at some point, landing on the tent with both occupants inside and killing them both."
The incident occurred within the ski resort's permit boundary but outside of terrain included in normal resort operations. A Whistler Blackcomb resort statement indicates that a high avalanche hazard forced patrol to close the area beyond the top of Seventh Heaven chairlift on Saturday. The Blackcomb Glacier area has also been closed since May 6 due to construction.
RCMP are not releasing the names of the deceased at this time.