Denver, CO – While the current government shutdown has locked down National Parks, monuments and facilities across the country, it has also prompted the U.S. Forest Service (USFS) to close access to many of its hiking trails, wilderness areas and other less developed locations, as well as some facilities operated by private entities on federal land. Even commercial logging operations in our nation's 155 National Forests have ground to a halt.
This has led many to ask, "What about ski resorts?"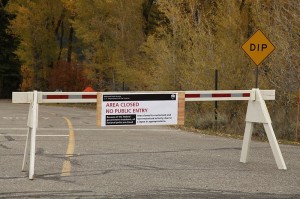 A total of 121 ski resorts in the U.S. operate wholly or partially within U.S. National Forests in Arizona, California, Colorado, Idaho, Montana,  New Hampshire, New Mexico, Oregon, Utah, Vermont, Washington and Wyoming. Industry officials effect the current shutdown to have little if any effect on ski resort operations, although as National Ski Areas Association (NSAA) president Michael Berry cautioned on Wednesday, "This situation could change at anytime. The position that the USFS took on Monday could be very different later today, tomorrow or anytime in the future."
The NSAA sent a memo to its member resorts to provide guidance during the shutdown. "NSAA received a call from Chief Tidwell about how the federal government shutdown will affect ski areas," the memo states. "Ski areas may continue to operate, as the improvements are not government owned. Privately owned improvements are not to be affected by the shutdown. Only Government-owned recreation facilities such as campgrounds will be shut down, and that will take place in an orderly fashion."
The shutdown does, however, affect pending applications to expand or alter provisions of the Special Use Permits under ski areas on Forest Service land operate as government officials are not available to move these requests forward. These applications, however, involve new or expanded facilities proposed to debut in subsequent seasons, not winter 2013-14. Assuming a relatively speedy resolution to the current budget impasse, the shutdown is unlikely to significantly impact these proposals, and improvements for the pending winter season are largely already complete.
"On a case by case basis, the USFS will work with ski areas that are under construction to ensure that if a ski area needs some kind of agency inspection or action," the NSAA memo explains.