Taos Ski Valley, NM – New Mexico's Taos ski area, in the hands of the Blake family since its founding in 1954 by its late patriarch Ernie Blake, is being sold to a billionaire conservationist, it was announced today.
The purchase price was not disclosed.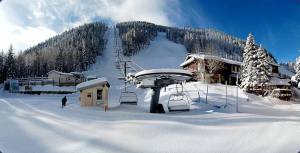 Taos is the last ski area in New Mexico still controlled by its founding family.  A notoriously steep destination for hardcore experts and purists alike, it was one of the last four ski areas in the U.S. to lift a ban on snowboarding its slopes. The other three — Alta and Deer Valley in Utah, and Mad River Glen in Vermont — still restrict its guests to those on two planks.
Taos Ski Valley's buyer is Louis Bacon, a North Carolina-born hedge fund manager, trader and founder of Moore Capital whose net worth the Denver Post placed at $1.6 billion in 2010. Bacon, his wife and seven children make their permanent home on Long Island, N.Y., but in 2012 he donated 90,000 acres of his Tercio Ranch just across the New Mexico border in Colorado's Sangre de Cristo Mountains to the federal government to form the proposed new Sangre de Cristo Conservation Area. He has also worked to protect sensitive lands elsewhere in New York, North Carolina and the Bahamas.
Taos has long survived on resort revenues, eschewing debt to fund development. Bacon's deep pockets should come in handy to help Taos redevelop its base area and install planned lift service on Kachina Peak approved by the U.S. Forest Service last year, but that it currently lacks the funds to develop.
"Our net revenues are not sufficient to fund the improvements needed," Taos Ski Valley CEO Mickey Blake told the Taos News, adding that building a new lift on Kachina Peak would have "eaten up all our cash reserves."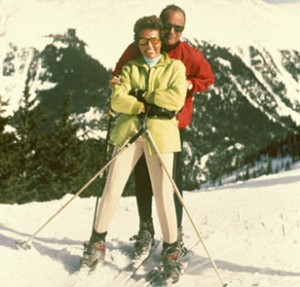 Blake added that he approached Bacon himself earlier this summer about selling the resort. Bacon has since 1996 owned several real estate parcels in Taos Ski Valley, including a plot of undeveloped land off the resort's El Funko ski run.
"Louis and his team have been true partners for many years and have played collaborative roles in the vision our family has for the ski valley, the base area redevelopment and the on-mountain improvements," Blake said. "Based on our relationship and his track record for conservation, our family approached Louis about purchasing Taos Ski Valley. We believe Louis is the right person to ensure a viable future for the ski valley and that his ownership will be beneficial to our employees, Taos' residents and guests. We are pleased he was interested in our proposal and we look forward to working together on the transition."
Blake, who will be replaced by current COO Gordon Briner, promised the newspaper that the transition to new ownership would be seamless and that none of the ski area's 615 full and part-time employees would lose their job as a result. Blake will remain on the Taos Ski Valley Board of Directors.
"We owe so much to the Blake family and their enduring legacy that has made Taos Ski Valley what it is today," said Briner. "I look forward to continuing to work closely with Mr. Bacon and his team and advancing the vision of Ernie, Mickey and the rest of the Blake family into the future."
"It is a once-in-a-lifetime opportunity to be a part of this iconic ski area with its expansive mountain and the first-class team of professionals," added Bacon spokesperson and director of properties, Peter Talty, speaking for his boss who has long avoided the media spotlight. "Our mandate is clear and we are dedicated to advancing the Blake family vision and legacy of Taos Ski Valley, by continuing to provide an unmatched skiing experience while serving as an economic driver for northern New Mexico.  Louis is honored that Mickey and his family approached him to be part of this tradition."
Ernie Blake died in 1989 at the age of 75. Current majority shareholders in Taos Ski Valley include his children, Mickey Blake and Wendy Blake Stagg. Ernie Blake's widow Rhoda Blake, now 95, as well as the Pond family in Taos, Mitchell family in Santa Fe, McGuckin family of Albuquerque and Pfister family in Aspen, Colo., all own minority interests. The sale of the ski resort will be completed pending shareholder approval at a January meeting.