Ludlow, VT – Okemo Mountain Resort in Ludlow will host The Nature Valley NASTAR Eastern Championships Jan. 31 through Feb. 2. This event brings recreational racers together for an entire weekend of racing, live music, parties and fun.
Participants compete against their peers in a modified GS race on Saturday, and with their family or friends in a team competition on Sunday. In addition, there will be race clinics on Friday with NASTAR's Traveling Pacesetter and four-time Olympian, AJ Kitt.
Participants will compete within their age and ability group on Saturday and the top three racers in each division will win awards and qualify for the Nature Valley NASTAR National Championships to be held at Aspen/Snowmass, Colo., March 27-30. In addition, the winner in each age, gender, division and discipline will be invited to compete in the Race of Champions on Sunday. The Race of Champions is a handicapped race where young and old have an opportunity to win the Overall NASTAR Eastern Championship title based on their discounted time.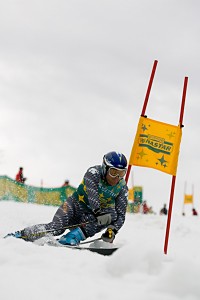 The team competition will take place after the Race of Champions on Sunday. Family teams and teams of friends can have up to six team members but only three highest scores will be used to score each team.  Team members will score points for their team based on the handicap they earn in their age and gender group. NASTAR Team Points are a great way to level the playing field so that young and old, male or female, have an equal opportunity to contribute to their teams' success.
A sponsor village will provide racers and their guests with access to the latest equipment and the Warren Miller crew will provide a private screening of the new movie, Ticket to Ride.
A $64 entry fee includes the NASTAR Eastern Championships race entry, Family/Friends Team race entry, gift bags, awards reception, raffle entry, Warren Miller film screening, sponsor village, live music, discounted lift tickets and discounted lodging. Okemo Mountain Resort is offering a 20 percent discount on two-night stays and a 25 percent discount on three-night stays.
There is a $10 entry fee for the Team Race only and $15 guest credentials for the Warren Miller Movie, awards reception and live music.