Beaupré (QC), Canada – Spring festivities officially kick off this weekend at Quebec's Mont-Sainte-Anne with the first of five Spring Madness Weekends.
Free outdoor après-ski shows will take place throughout Spring Madness on the stage at the base of the mountain. This Saturday it's the cover band The Crackers, followed by Dejay Nicky Crehall Souljah on March 30 and April 13. On April 5 Monya & Charlie Price Band will mix classic rock, blues and contemporary hits, while on April 12 INUS ASO will sing the reggae beats of Bob Marley.
The Banked Slalom competition is back once again this Saturday, offered exclusively to snowboarders. Designed with cambered turns, the circuit host competitors in three categories: Mixed Foursome (mixed men and women) and Individual (men and women separately).
Other Spring Madness festivities on the Mont-Sainte-Anne calendar include: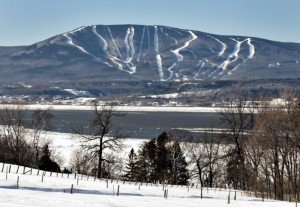 March 29-30 and April 5-6: Try to ride a mechanical snowboard at the base of the mountain.
April 6: Free Yoga Lolë at the base of the mountain. April 6th is also Yéti's birthday, and for the occasion children will be invited to donate their used toys to Mont-Sainte-Anne's mascot Yéti, who will redistribute them to deprived children. Yéti will be sharing a gigantic cake with everyone.
April 12: The Mont-Sainte-Anne "Cyclo-puces" allows Mont-Sainte-Anne guests to buy and sell used bikes on site to get ready for the season ahead.
April 19 to 21: The mountain celebrates Easter with an egg hunt and the Easter Bunny.
Throughout Spring Madness, Mont-Sainte-Anne's mountainside maple sugar shack will provide sweet treats, and outdoor spas and blow-up castles will decorate the base area as the smell of BBQ wafts through the air.
Those looking to stick around will find a special spring lodging offer beginning at C$64 for a night's stay and a lift ticket. Interested guests can book online or call (800) 463-1568.