Killington, VT – Just one day after kicking off snowmaking operations, Vermont's Killington Resort will launch the East Coast's 2014-15 ski and snowboard season for season pass and Express Card holders on Monday, followed by the general public on Tuesday.
The Sunday snow stake reading on the upper mountain showed one inch of fresh natural snow, augmented by snowmaking on the slopes of the resort's North Ridge courtesy of Killington's mountain operations team.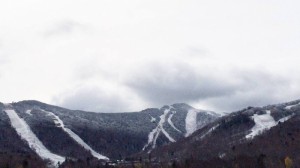 The K-1 Express Gondola will provide uploading and downloading to access the North Ridge triple chair. The Peak Walkway must be used to access open terrain from Killington Peak, as Great Northern from the top of the K-1 Express Gondola will not be open. Skiers and riders will use the Peak Walkway to return to the K-1 Express Gondola and download back to the base area. Park features will be set up as conditions permit.
First chair on Monday will load at 11 a.m. Lift tickets for Express Card holders will cost $25. Those who have yet to purchase a Killington season pass or Express Card may do so on Monday at the Snowshed Sales Center from 8:30 a.m. until 4:00 p.m., or at K-1 Guest Services on Monday, 30 minutes prior to lift opening time.
Killington will open to the general public for skiing and snowboarding on Tuesday and plans to remain open on a daily basis. Lift ticket prices for Tuesday's operations have not yet been announced.
The K-1 Lodge will be open for tickets and passes, guest services and restrooms daily. The K-1 Café and Mahogany Ridge Bar will be open for food and beverage service daily. The Peak Lodge will be open for food and beverage service one hour after the lifts open through 3:00 p.m. daily; lodge facilities will be available through 4:00 p.m. daily. Killington Sports at K-1 Lodge will be open daily, and the K-1 Rental and Repair Shop will be open 30 minutes prior to and after lifts daily.