Charlemont, MA – North America's longest Mountain Coaster, dubbed "Thunderbolt" after the famed backcountry ski trail on nearby Mount Greylock, is now open at Berkshire East. Encompassing 5,450 feet of mountain terrain, riders rush near exposed rocks and cliffs, dive through a diverse mountain forest and descend into the base area of this western Massachusetts ski area.
The coaster opened to the public over the Columbus Day holiday weekend. It will remain open on weekends only during the month of November from 10:30 a.m. until 4:00 p.m., and will continue to operate on a year-round basis.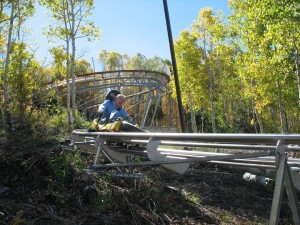 "We pride ourselves on providing our guests an amazing experience, whether it's skiing, snowboarding, one of our three zip line tours and soon on North America's longest Mountain Coaster," Berkshire East owner Roy Schaefer said before the attraction's grand opening last month.
Guests riding the Thunderbolt will begin their experience by ascending 1,580 feet of uphill track. Once there, they will begin a 3,850-foot downhill descent in their own personal carts. As riders roll down the rails guests control their speed via a hand brake. Featuring dramatic twists and turns, sharp dips to steeply banking corners and two large 360s that are certainly the highlight of the ride, this coaster is designed to satisfy guests' thirst for thrills.
Rider comfort is ensured by anti-collision proximity sensors that apply a brake automatically if carts approach too close to one another, and a magnetic braking system that slows riders to a stop at the offload deck at the bottom of the coaster.
Guests age nine and up and at least 52 inches tall may operate their own coaster car, and those age three and up may ride as a passenger. A single ride costs $15 for a driver and $10 for a rider, and multi-ride discounts are available.