Levi, Finland – Sunday's racing in Finland wrapped up a tough World Cup weekend for the U.S. Ski Team, which could only muster an 18th place finish by Ted Ligety in a men's slalom narrowly won by 20-year-old Norwegian Henrik Kristoffersen.
A mere .12 seconds separated Kristoffersen from Austria's Marcel Hirscher as the young Norwegian notched his second ever World Cup win, but a whopping 1.31 seconds separated Hirscher and Germany's Felix Neureuther for third. Norway's Sebastian-Foss Solevaag was a mere .01 out from the podium, causing Neureuther to sweat a little bit in the finish area.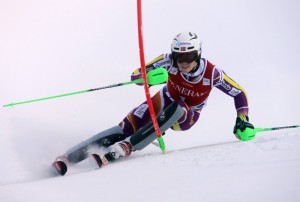 Ligety's second run featured good, tactical skiing and he had an amazing recovery on the steeps, but that mistake cost him a lot of time. He finished a full 3.33 seconds behind Kristoffersen.
"There's definitely a lot to improve," Ligety acknowledged. "We haven't had good training volume in slalom yet this season. I feel like I skied better second run, just made mistakes in the wrong spots.
"It is what it is. I'll move on to the next one," Ligety said fatalistically. "I want to be able to get on the podium this season. I think I have that kind of speed, I just have trouble relaying that into the race and having consistency so hopefully I can try to get that figured out."
David Chodunsky, of Crested Butte, Colo., crossed the finish line in 26th after breaking a pole early in his second run, and no other American racer broke into the top 30 to qualify for a second run. Sunday's action capped a disappointing weekend for the U.S. Ski Team after Mikaela Shiffrin, who was favored to win Saturday's women's slalom, came across the finish line in 11th place.
The Levi course crew did an incredible job with the hill after a few centimeters of fresh snow fell last night. The track was in the same condition for bib 1 as it was for bib 30, but the second run was a difficult set with a tricky combination on the pitch.
There are nine slaloms to go in this 2015 Audi FIS Ski World Cup season, and time for Ligety to prove his slalom skiing is deserving of the podium. The next slalom stop on the Val d'Isere, France, Dec 13-14. Before that, the men's World Cup tour swings to North America with a downhill and super G in Lake Louise, Canada, followed by the famed Audi Birds of Prey Race Week Dec. 5-7 in Beaver Creek, Colo. The U.S. team will prepare for the back-to-back speed series with training at the U.S. Ski Team Speed Center at Colorado's Copper Mountain.
OFFICIAL RESULTS
FIS Alpine Ski World Cup
Levi, Finland – Nov. 16, 2014
Men's Slalom
| Rank | Bib | Country | Name | Run 1 | Run 2 | Tot. Time |
| --- | --- | --- | --- | --- | --- | --- |
| 1 | 1 | Norway | KRISTOFFERSEN Henrik | 56.08 | 54.31 | 1:50.39 |
| 2 | 4 | Austria | HIRSCHER Marcel | 56.02 | 54.49 | 1:50.51 |
| 3 | 2 | Germany | NEUREUTHER Felix | 56.77 | 54.93 | 1:51.70 |
| 4 | 21 | Norway | SOLEVAAG Sebastian-Foss | 56.22 | 55.49 | 1:51.71 |
| 5 | 6 | Italy | THALER Patrick | 56.35 | 55.52 | 1:51.87 |
| 6 | 5 | Germany | DOPFER Fritz | 56.44 | 55.47 | 1:51.91 |
| 7 | 3 | Sweden | HARGIN Mattias | 56.78 | 55.30 | 1:52.08 |
| 8 | 19 | Russia | KHOROSHILOV Alexander | 56.45 | 55.91 | 1:52.36 |
| 9 | 11 | Sweden | MYHRER Andre | 56.57 | 56.00 | 1:52.57 |
| 10 | 30 | Switzerland | YULE Daniel | 56.93 | 55.65 | 1:52.58 |