Coudersport, PA – Pennsylvania skiers and riders will have one less resort to choose from this winter.
Citing economic challenges, the owners of Ski Denton near Coudersport have announced that their lifts will remain silent this winter.
"On the heels of the worst two winters that the ski industry has ever seen, and last season's extreme cold weather, which resulted in double the utility costs, Ski Denton is not able, financially, to open Denton Hill State Park for the 2014-2015 ski season," resort owner Steve Haskins published on Ski Denton's website, adding that his wife "Laura and I put forth a tremendous effort and wish to thank all of our current supporters and past patrons."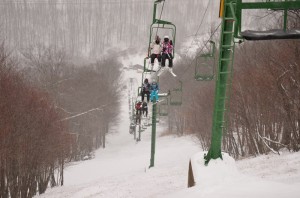 Haskins further indicated that any season pass purchases for this winter would be refunded, and that New York's Swain Resort and Ski Sawmill in Pennsylvania would both offer special deals to any previous Ski Denton passholders.
Ski Denton operates in a Pennsylvania state park, and while the state owns all of the ski area's infrastructure, operation of the resort is leased to a concessionaire. A spokesperson for the state's Department of Conservation and Natural Resources indicated that her agency is planning for a contractor to complete a feasibility study for operation of the ski area.