Lake Louise (AB), Canada – Saturday was an exciting day for Canada as Alpine Canada Alpin veteran Manuel Osborne-Paradis tied for second place at the Audi FIS Ski World Cup, just 0.14 seconds from first-place finisher Kjetil Jansrud of Norway in downhill racing action in Lake Louise.
It was the first victory at Lake Louise for Jansrud, who won the super G gold and downhill bronze at the 2014 Olympic Winter Games in Sochi, Russia, in February.
Osborne-Paradis first graced the podium at Lake Louise in 2009. Achieving a podium result on home soil is no easy feat with the pressure to perform, yet Osborne-Paradis conquered the course and delivered for the fans and sponsors in attendance.
Marco Sullivan was the American to watch in Saturday's downhill, holding the top step of the podium for 13 racers, before finally finishing in fifth place.
"I knew it was going to be good snow and I needed to take advantage of that early start number. I didn't feel the fastest, but I was clean the whole way," said Sullivan. "I'm one of the veteran guys now and I'm just feeling comfortable racing these days. Nothing is holding me back."
The conditions leading into the weekend's World Cup stop in Canada were not ideal, as the training runs on Thursday and Friday were canceled due to too much snow, meaning all racers only had a single opportunity to get to know the course on Wednesday's training run. "You have to be in a different mental state when you only have one [training run]" stated Osborne-Paradis. "However, it worked for me. I had a fast training run and was ready for today's race."
Not only was this the first downhill race of the season, it was also a new and exciting course for all of the athletes. Hannes Trinkl, a former World Cup champion ski racer from Austria, created a brand new course to open the season, achieving a warmly welcomed traditional downhill feel.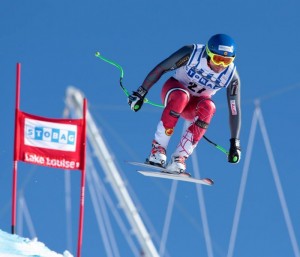 When asked how it feels to be back on the podium, Osborne-Paradis said, "It feels really good! I was nervous today because I knew I could podium and this was the best chance I have had in a long time."
Osborne-Paradis attributed Saturday's success to a strong pre-season training program, both on and off the snow, in addition to an excellent coaching staff that has positioned the team for a successful season.
Osborne-Paradis' Canadian teammate Jan Hudec of Calgary, AB finished 19th (1.51.58), while Benjamin Thomsen finished 29th  (1.51.94), Dustin Cook finished 36th (1.52.29), Jeffrey Frisch finished 44th (1.52.49), Morgan Pridy finished 54th(1.53.00). Canadian Broderick Thompson missed a gate in his first World Cup race and was disqualified.
In other American action on Saturday, Travis Ganong also skied a solid race, tying for tenth place. In addition, the U.S. athletes had two notable bibbos: Steve Nyman started 44th and finished 16th, and former U.S. Ski Team athlete Wiley Maple wore bib 56th and ended up 22nd. Rounding out the U.S. athletes, Jared Goldberg finished 35th and Bryce Bennett in 56th place.
OFFICIAL RESULTS
Audi FIS Alpine Ski World Cup
Lake Louise (AB), Canada – November 29, 2014
Men's Downhill
| Rank | Athlete | Country | Results |
| --- | --- | --- | --- |
| 1 | JANSRUD Kjetil | NOR | 1:50.20 |
| 2 | OSBORNE-PARADIS Manuel | CAN | 1:50.34 |
| 2 | FAYED Guillermo | FRA | 1:50.34 |
| 4 | PARIS Dominik | ITA | 1:50.61 |
| 5 | SULLIVAN Marco | USA | 1:50.68 |
| 6 | FEUZ Beat | SUI | 1:50.90 |
| 7 | HEEL Werner | ITA | 1:50.93 |
| 8 | KUENG Patrick | SUI | 1:50.95 |
| 9 | REICHELT Hannes | AUT | 1:50.96 |
| 10 | CLAREY Johan | FRA | 1:50.98 |