Copper Mountain, CO – The 2015 U.S. Snowboarding halfpipe and slopestyle teams, led by Olympians Sage Kotsenburg (Park City, Utah), Kelly Clark (West Dover, Vt.), Hannah Teter (Belmont, Vt.), Greg Bretz (Mammoth Lakes, Calif.) and Chas Guldemond (Truckee, Calif.), were announced on Thursday during the Sprint Grand Prix season opener at Copper Mountain in Colorado.
"I am excited for this winter, it is nice to have time to work on my snowboarding as it is a post Olympic year," said Clark. "Being on the U.S. Snowboarding team gives me the resources and opportunity push myself and learn new things. Behind every great athlete there is a team of great people and U.S. Snowboarding is part of that team for me."
New additions to the pro team this year included rookies-turned-pro Chloe Kim (Torrance, Calif.), Ben Ferguson (Bend, Ore.) and Olympian Taylor Gold (Steamboat Springs, Colo.). The team features a roster of 23 internationally ranked snowboarders including 12 Olympians and three Olympic gold medalists.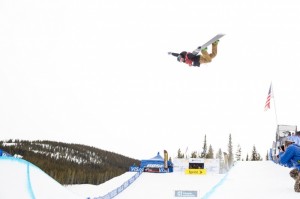 This will mark the first year of the U.S. Snowboarding Slopestyle Rookie Team. Former Park City Snowboard Team coach and longtime High Cascade Snowboard Camp coach Dave Reynolds is at the helm of the rookie roster that includes athletes Red Gerard and Kirra Kotsenburg.
"We are fortunate to have so many talented athletes representing U.S. Snowboarding," said head coach Mike Jankowski. "After some amazing performances at the Olympics last February, we are eager to build on that momentum moving forward. Everyone brings something unique to the team and is working hard to keep improving and keep it fun. We look forward to another great season."
The halfpipe riders begin their competition season this week at the Sprint U.S. Grand Prix, taking place through Saturday at Copper Mountain. The halfpipe team will also join the slopestyle riders for their season kick off at the Dew Tour in Breckenridge, Colo. Dec. 11-14.
2015 U.S. Snowboarding Team Roster
Name (Birthdate; Hometown; Club; USASA Series)
* Denotes Olympian
2015 U.S Snowboarding Halfpipe Team
Men
Greg Bretz (12/19/1990; Mammoth Lakes, CA; Mammoth Charter School; Unbound/Mammoth Series)*
Ben Ferguson (1/21/1995; Bend, OR; Central Oregon Series)
Taylor Gold (11/17/1993; Steamboat Springs, CO, Steamboat Springs Winter Sports Club, Rocky Mountain Series)*
Chase Josey (3/31/1995; Sun Valley, ID; Sun Valley Education Foundation; Big Mountain West Series)
Matt Ladley (5/17/1991; Steamboat Springs, CO; Steamboat Springs Winter Sports Club; Raging Buffalo Series)
Louie Vito (3/20/1988; Sandy, UT, Stratton Mountain School; Southern Vermont Series)*
Women
Kelly Clark (7/26/1983; West Dover, VT; Mount Snow Academy; Southern Vermont Series)*
Arielle Gold (5/4/1996; Steamboat Springs, CO; Steamboat Springs Winter Sports Club; Rocky Mountain Series)*
Chloe Kim (4/23/2000; La Palma, CA; Mammoth Mountain Snowboard Team; Unbound/Mammoth Series)
Maddy Schaffrick (4/29/1994; Steamboat Springs, CO; Steamboat Springs Winter Sports Club; Rocky Mountain Series)*
Hannah Teter (1/27/1987; Belmont, VT; Okemo Mountain School; Southern Vermont Series)*
2015 U.S. Snowboarding Slopestyle Team
Men
Nik Baden (1/13/1998; Steamboat Springs, CO; Steamboat Springs Winter Sports Club; Rocky Mountain Series)
Eric Beauchemin (1/14/1991; Lake Winola, PA; Southern Vermont Series)
Brandon Davis (Mammoth Lakes, CA; Unbound/Mammoth Series)
Chas Guldemond (4/22/1987; Truckee, CA; WVBBTS; New Hampshire Series)*
Sage Kotsenburg (7/27/1993; Park City, UT; Big Mountain Series)*
Kyle Mack (7/6/1997; W Bloomfield,MI; Huck Finn/Great Lakes Snow Series)
Ryan Stassel (10/23/1992; Anchorage, AK; Big Alaska Series)*
Eric Willett (1/2/1988; Breckenridge, CO; Rocky Mountain Series)
Women
Jessika Jenson (8/7/1991; Rigby, ID; Big Mountain West Series)*
Ty Walker (3/3/1997; Stowe, VT; Mt. Mansfield Ski and Snowboard Club; Northern Vermont Series)*
Karly Shorr (5/18/1994; Milford, MI; Middle Earth Series)*
2015 U.S. Snowboarding Halfpipe Rookie Team
Men
Gabe Ferguson (4/16/1999; Bend, OR; Central Oregon Series)
Nathan Jacobson (3/29/1999; Bend, OR; Mt. Bachelor Sports Education Foundation; Central Oregon Series)
Toby Miller (2/14/2000; Truckee, CA; North Tahoe Series)
Jake Pates (7/30/1998; Eagle, CO; Rocky Mountain Series)
Ryan Wachendorfer (2/3/1996; Edwards, CO; Rocky Mountain Series)
Women
Zoe Kalapos (4/17/1997; Vail, CO; Ski and Snowboard Club Vail; Rocky Mountain Series)
Maddie Mastro (2/22/2000; Wrightwood, CA; Southern California Series)
2015 U.S. Snowboarding Slopestyle Rookie Team
Men
Brett Moody (7/28/1995; Anchorage, AK; Krik's Camp; Rocky Mountain Series)
Redmond Gerard (6/29/2000; Silverthorne, CO; Rocky Mountain Series)
Chandler Hunt (11/4/1994; Park City, UT; Park City Snowboard Team)
Brock Crouch (8/22/1999; Mammoth, CA; Unbound/Mammoth Series)
Lyon Farrell (Paia: Haiku, HI; Rocky Mountain Series)
Women
Hailee Mattingley (1/11/1997; Park City, UT; Big Mountain Series)
Kirra Kotsenburg (Park City, UT; Big Mountain Series)
Julia Marino (Westport, CT; Southern Vermont Series)
U.S. Snowboarding Staff

Jeremy Forster, U.S. Freeskiing and U.S. Snowboarding Director
Abbi Nyberg, U.S. Freeskiing and U.S. Snowboarding Program Manager
Kelsey Sloan, U.S. Freeskiing and U.S. Snowboarding Team Manager
Mike Jankowski, U.S. Freeskiing and U.S. Snowboarding Head Coach
U.S. Snowboarding Halfpipe Staff
Rick Bower, U.S. Snowboarding Halfpipe Head Coach
Tommy Czeschin, U.S. Snowboarding Halfpipe Coach
Stu Soars, U.S. Snowboarding Halfpipe Technician
Chuck Williams, U.S. Snowboarding Halfpipe Physical Therapist
U.S. Snowboarding Slopestyle Staff
Bill Enos, U.S. Snowboarding Slopestyle Head Coach
Peter Joyce, U.S. Snowboarding Slopestyle Technician
Jason Switzer, U.S. Snowboarding Slopestyle Physical Therapist
U.S. Snowboarding Development Staff
Spencer Tamblyn, U.S. Snowboarding Halfpipe National Development Coach
Dave Reynolds, U.S. Snowboarding Slopestyle ppNational Development Coach