Avon, CO – Ted Ligety destroyed the field, coming back from fourth in the first run to take the Audi FIS Ski World Cup giant slalom victory at Beaver Creek on Sunday for the fifth straigth year. France's Aleis Pinturault was second, followed by Austrian Marcel Hirscher in third.
Ligety's winning run down the Birds of Prey piste, his 23rd World Cup giant slalom win, matches the GS victory tally of Swiss ski racer Michael Von Gruenigen, one of Ligety's childhood heroes. Legend Ingemark Stenmark of Sweden has 46.
"Today was a lot of fun," Ligety said during a post-race press conference. "That first run was definitely difficult, it didn't feel like I had gotten into the groove as much as I have in the past. But second run I was confident that I could ski the way I really wanted to."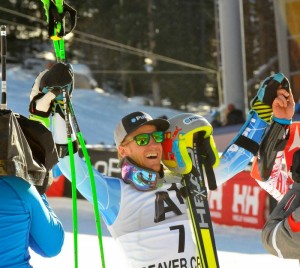 Ligety, of Park City, Utah, was just over two weeks out from surgery on a fractured left wrist, with stitches plainly showing where four screws were inserted to stabilize the injury.
"I was skiing for about a week without a pole because I really couldn't move my wrist much, but now it feels fine. I think in a way that was good practice for me," he said.
Sunday was a strong day for the U.S. Ski Team, with Reno, Nev.'s Tim Jitloff  finishing ninth and David Chodounsky, of Crested Butte, Colo. 17th.
The giant slalom capped a weekend of men's World Cup racing action in Beaver Creek. Norwegian Kjetil Jansrud, who swept the World Cup races a week earlier in Lake Louise, Canada, kept his winning streak going with a victory in Friday's downhill, ahead of Beat Feuz of Switzerland. Friday's story, however, was a third-place finish for Utah's Steven Nyman, who still held the top spot after the first 15 racers crossed the finish line.
"It's huge to be on the podium today, especially with 2015 [World Championships in Beaver Creek] coming up," relayed Nyman. "I woke up this morning and wasn't that confident. I had to talk to myself and say 'OK, this is your opportunity.'"
Teammate Travis Ganong, of Squaw Valley, Calif., was fifth. Ligety, for whom speed events are not his forté, stopped the clock in 28th place.
In between those two races, Lake Placid's Andrew Weibrecht cracked the top-10 in Saturday's super G won by Hannes Reichelt of Austria. He was joined on the podium Norway's seemingly unstoppable Jansrud, who made an unbelievable recovery to finish second, with France's Pinturault rounding out the podium in third position.
Weibrecht finished in 10th on Saturday, followed by Ligety in 11th, Jitloff in 24th, Tommy Biesemeyer (Keene, N.Y.) in 25th, Ganong in 28th, Jared Goldberg (Holladay, Utah) in 32nd, Bryce Bennett (Squaw Valley, Calif.) in 42nd, and Nyman with a DNF.
"The top was really good," Weibrecht said of Saturday's super G course. "It was solid skiing. By the GS start, I got a little squashed in there and had a mistake. I knew I was losing a little time, so I pushed it a bit harder. I had a couple little ragged mistakes down bottom, and then out of the Abyss there's a tough switch. It comes at you really quick; you gotta be in the right place. You gotta commit before you ski the gate. It's a really, really tough couple of gates.
"Obviously I lost some time there," Weibrecht admitted, "but that's the way it goes."
OFFICIAL RESULTS
Audi FIS Alpine Ski World Cup
Beaver Creek, CO
Men's Downhill – Dec. 5, 2014
| Rank | Athlete | Country | Results |
| --- | --- | --- | --- |
| 1 | JANSRUD Kjetil | NOR | 1:40.17 |
| 2 | FEUZ Beat | SUI | 1:40.71 |
| 3 | NYMAN Steven | USA | 1:40.73 |
| 4 | PARIS Dominik | ITA | 1:40.86 |
| 5 | GANONG Travis | USA | 1:40.88 |
| 6 | FAYED Guillermo | FRA | 1:40.95 |
| 7 | FRANZ Max | AUT | 1:41.08 |
| 8 | REICHELT Hannes | AUT | 1:41.27 |
| 9 | MAYER Matthias | AUT | 1:41.31 |
| 10 | FILL Peter | ITA | 1:41.36 |
Men's Super G – Dec. 6, 2014
| Rank | Athlete | Country | Results |
| --- | --- | --- | --- |
| 1 | REICHELT Hannes | AUT | 1:12.78 |
| 2 | JANSRUD Kjetil | NOR | 1:13.30 |
| 3 | PINTURAULT Alexis | FRA | 1:13.40 |
| 4 | FILL Peter | ITA | 1:13.44 |
| 5 | PARIS Dominik | ITA | 1:13.60 |
| 6 | STREITBERGER Georg | AUT | 1:13.62 |
| 7 | DEFAGO Didier | SUI | 1:13.77 |
| 8 | MARSAGLIA Matteo | ITA | 1:13.79 |
| 9 | JANKA Carlo | SUI | 1:13.81 |
| 10 | WEIBRECHT Andrew | USA | 1:13.85 |
Men's Giant Slalom – Dec. 7, 2014
| Rank | Athlete | Country | Results |
| --- | --- | --- | --- |
| 1 | LIGETY Ted | USA | 2:34.07 |
| 2 | PINTURAULT Alexis | FRA | 2:34.25 |
| 3 | HIRSCHER Marcel | AUT | 2:34.67 |
| 4 | RAICH Benjamin | AUT | 2:34.94 |
| 5 | MUFFAT-JEANDET Victor | FRA | 2:35.01 |
| 6 | FANARA Thomas | FRA | 2:35.14 |
| 7 | JANKA Carlo | SUI | 2:35.15 |
| 8 | NEUREUTHER Felix | GER | 2:35.21 |
| 9 | JITLOFF Tim | USA | 2:35.37 |
| 10 | DOPFER Fritz | GER | 2:35.46 |