Ruka, Finland – Olympic champion Hannah Kearney and the rest of the U.S. Freestyle moguls team kick off the 2015 season on Saturday with the dual moguls World Cup opener in Ruka, Finland. The team has been in Finland since the beginning of the month for training, with only about three hours of daylight shining on the moguls field.
"Training in Ruka has been great," said head coach Garth Hager. "We arrived just as some new snow was falling, which always makes for a better course. It helps the moguls become larger, which allows the skiers to ski more direct. Basically, it makes the course faster and more exciting."
With retirement in sight, moguls master Kearney is looking to bring her A-game this season. One of the most decorated freestyle skiers in U.S. history, Kearney's trophy shelf boasts two Olympic medals, six World Championships medals and five World Cup moguls crystal globes.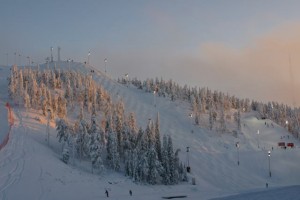 "The statistics highlight some of the proudest moments of my career goals," said Kearney. "They represent goals I've achieved and adversities I've overcome."
But don't expect Kearney to dwell on those results. She's focusing on specific technical and tactical goals to help her ski her best. Kearney won the moguls competition in Ruka last year and she'll be looking for her 43rd World Cup victory on Saturday.
Olympic veterans Bryon Wilson and Patrick Deneen round out the list of strong starters for the U.S. It's a post-Olympic year, which means athletes at all levels are looking to find a spot on the podium.
The competition begins at 5 p.m. local time.
U.S. Freestyle Moguls Team Roster—Ruka, Finland
Jeremy Cota (Carabassette Valley, ME)
Patrick Deneen (Dle Elum ,WA)
Joe Discoe (Telluride, CO)
Ali Kariotis (Tiburon, CA)
Hannah Kearney (Norwich, VT)
Mikaela Matthews (Frisco, CO)
Keaton McCargo (Telluride, CO)
Troy Murphy (Bethel, ME)
K.C. Oakley (Piedmont, CA)
Thomas Rowley (Long Beach, NY)
Sophia Schwarts (Sun Valley, ID)
Dylan Walczyk (Rochester, NY)
Bryon Wilson (Butte, MT)
2015. U.S. Freestyle Ski Team
Name, (Birthdate; Hometown; Club)
*Indicates Olympian
**Will not compete this season
A Team
Patrick Deneen (12/25/1987; Cle Elum, WA) *
Sho Kashima (11/1/1986; South Lake Tahoe, CA; Heavenly Valley Ski Foundation)
Hannah Kearney (2/26/1986; Norwich, VT; Waterville Valley Black & Blue Trail Smashers) *
Heidi Kloser (9/18/1992; Vail, CO; Ski and Snowboard Club Vail) *
Heather McPhie (5/28/1984; Bozeman, MT; Bridger Freestyle) * **
Eliza Outtrim (7/18/1985; Hamden, CT; Steamboat Springs Winter Sports Club) * **
Sophia Schwartz (11/24/1990; Sun Valley, ID; Steamboat Springs Winter Sports Club)
Bradley Wilson (6/5/1992; Butte, MT; Wasatch Freestyle, Deer Valley Resort)
B Team
Joe Discoe (2/23/1987; Telluride, CO; Telluride Freestyle Club)
Mikaela Matthews (12/24/1991; Frisco, CO; Team Summit)
Troy Murphy (6/13/1992; Bethel, ME; Planet Ski International)
K.C. Oakley (5/5/1988; Piedmont, CA; Park City Freestyle Team)
Bryon Wilson (4/7/1988; Butte, MT; Wasatch Freestyle, Deer Valley Resort) *
C Team
Jeremy Cota (10/24/1988; Carabassette Valley, ME; Steamboat Springs Winter Sports Club)
Ali Kariotis (4/

29

/1995; Tiburon, CA; Squaw Valley Freestyle Team)
Keaton McCargo (10/7/1995; Telluride, CO; Telluride Ski and Snowboard Club)
Bruce Perry Jr. (10/9/1995; Winter Park, CO; Winter Park Competition Center)
Thomas Rowley (7/2/1994; Long Beach, NY; Telluride Ski and Snowboard Club)
Morgan Schild (8/25/1997; Pittsford, NY; Ski and Snowboard Club Vail)
Dylan Walczyk (6/21/1993; Rochester, NY; Ski and Snowboard Club Vail)
Coaching Staff
Garth Hager, Head Moguls Coach
Lance Field, Moguls Coach
Matt Gnoza, Moguls Coach
Caleb Martin, Moguls Coach