Spokane, WA – Mt. Spokane ski area is turning to the state of Washington's capital budget to ask for $2.23 million to update state-owned base area facilities and accommodate growing public demand for outdoor recreation.
"Mt. Spokane is a very popular place for year-round recreation for residents throughout the greater Spokane region," said Brad McQuarrie, general manager of Mt. Spokane 2000, the non-profit organization that contracts with Washington State Parks to manage skiing operations within Mt. Spokane State Park.   "At a time when ski destinations are investing in significant upgrades to capture market share, we're working with aging facilities that are inefficient, undersized, and in need of improvements to serve a growing number of visitors."
According to McQuarrie, skier visits quadrupled, from 22,250 in 1997 to over 90,000 in 2013, at Mt. Spokane.  Mt. Spokane is requesting $2,224,500 from the Governor's capital budget for base area improvements.  Once funded, the appropriation will be used to pay for improvements to Lodge #1 and to design and build a new guest services building in the base area.  Lodge #1, built in 1956, will receive infrastructure and ADA compliance upgrades. Lodge #2, constructed in 1961, will receive a new roof, windows and other repairs.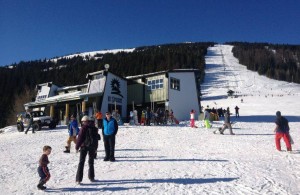 Additionally, the budget request will fund design and construction of a new guest services building, offering a more accessible and welcoming entry for visitors. The new 15,200-square-foot building will house ticket sales, a snow sports center, rentals, ski school and the childcare center.  It will also serve as a venue to host conferences and meetings, concerts, weddings and other events at the state park.
"This investment in facilities improvements and a new building will expand access to recreation and generate economic benefits to Washington State," said Tom Reese, co-chair of Greater Spokane Incorporated's (GSI) Public Policy Committee, which endorsed the funding request as one of its top three capital projects to support in its 2015 State Legislative Priority Agenda.  "The return on investment will be realized beyond the health and well being of Inland Northwest citizens, it will help generate additional revenue, tax dollars and jobs for the State of Washington."
The new guest services building and existing lodge improvements will create jobs and positive economic impacts during the construction phase and through longer-term recreational operations, McQuarrie added.