Killington, VT – In releasing its lift ticket pricing for the 2015-16 winter season, Killington Resort in Vermont is applying the same price both weekend and midweek at both Killington and Pico Mountains.
The walk-up window price for lift tickets this winter at Killington is $94, except for $96 during holiday periods. That price applies every day, weekend or midweek. Pico Mountain ticket prices this winter are $72 and $74, respectively.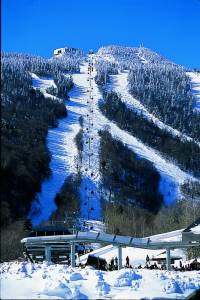 Last season midweek lift tickets at Killington cost $84, an $8 discount off the $92 weekend rate.
A Killington spokesperson indicated that less than 10 percent of the resort's clientele pays the walk-up rate, instead opting for a season pass, a $63 online K-Ticket, a discounted Express Card frequent skier rate, or a discounted ticket rate purchased elsewhere. K-Tickets may be purchased in packs of seven through October 15. A $79 Express Card gets the user a 25% discount off the walk-up rate on weekends and a 50% discount on weekdays, and every seventh day is free.
Killington will also maintain its past practice of discounting lift tickets when terrain is limited for early season conditions.