New York, NY – News flash: ski towns are some of the richest rural communities in America. Surprised? No, we're not, either.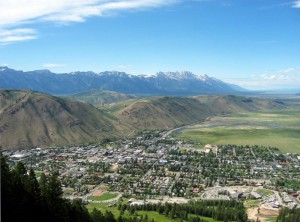 In August, Bloomberg News compiled a list of the 20 wealthiest rural "micropolitan areas" in America, with populations ranging from roughly 10,000 to 50,000. It's no surprise to us that over half are home to ski communities. The list was ranked by Bloomberg via a complex formula that utilized household income and home values as measures.
Number one was tiny Summit Park, Utah, right at the top of Parley's Summit near Vail Resorts' sprawling Park City ski area. It was followed closely by Edwards, Colo., near Vail and Beaver Creek. Surprisingly, ski resorts in the top 20 were exclusively western, although the next 20 included the likes of such rural eastern mountain communities as Laconia, N.H., and Bennington and Barre, Vt.  Where's Stowe? Where's Lake Placid? Not even in the top 50.
So without further ado, here's the top 20 from Bloomberg's list:
Rank
(* denotes ski town)
Estimated
Median
House-hold
Income
% of
Households
with Median
Income >= $200K
Median
Home
Value
% Homes
Valued
at
>= $1 million
1. Summit Park, UT*
 $83,336
14.4%
$485,700
 12.9%
2. Edwards, CO*
$74,456
9.2%
 $453,300
15.5%
3. Jackson, WY/ID*
$62,291
6.6%
$394,300
17.4%
4. Vineyard Haven, MA
$66,288
4.0%
$665,300
15.3%
5. Breckenridge, CO*
$63,697
5.0%
$460,000
9.1%
6. Easton, MD
$61,597
7.1%
$327,400
10.6%
7. Glenwood Springs, CO*
$60,237
5.0%
$341,500
12.9%
8. Heber, UT*
$65,050
5.8%
$307,600
4.9%
9. Steamboat Springs, CO*
$62,002
4.6%
$390,100
11.1%
10. Kapaa, HI
$62,052
4.2%
$484,500
10.5%
11. Torrington, CT
$71,338
6.6%
$263,200
3.1%
12. Hailey, ID*
$57,995
4.8%
$297,000
14.2%
13. Key West, FL
$53,607
6.5%
$381,200
11.3%
14. Gardnerville Ranchos, NV*
$60,100
4.6%
$271,400
5.1%
15. Truckee-Grass Valley, CA*
$57,353
4.7%
$357,300
3.7%
16. Durango, CO*
$58,080
3.7%
$339,400
4.1%
17. Hudson, NY
$57,336
4.7%
$221,600
2.4%
18. Oak Harbor, WA
$58,455
3.2%
$291,200
3.1%
19. Bozeman, MT*
$52,833
3.6%
$261,900
4.3%
20. Fredericksburg, TX
$53,668
4.2%
$216,600
2.5%