Turin, NY – Snow Ridge, a community ski area on the Tug Hill Plateau in the western Adirondacks known for its freakish snowfall, has new owners with big plans this season.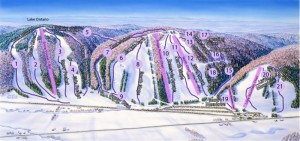 Fabius, N.Y. native Cyndy Sisto and her son Nick Mir are purchasing Snow Ridge from Russell Horn, who has owned the ski mountain for the past 11 years. Sisto spent 32 years as the sales and marketing manager for Toggenburg Ski Area south of Syracuse, which was recently sold to the owners of nearby Greek Peak. In addition to Toggenburg, 28-year-old Mir has also worked at ski shops in Breckenridge, Colo., and Mount Hood, Ore.
Snow Ridge's new owners plan to expand the mountain's operating hours and enhance its race programs, terrain parks and ski runs. They also plan to add summer activities including mountain biking and summer concerts. What they won't need to improve upon is the lake effect snowfall that blows off the eastern end of Lake Ontario to pile up in this corner of Upstate New York.