Thompsonville, MI – Michigan's Crystal Mountain is investing $11 million to debut a new chairlift, new ski runs and an addition to overnight lodging.
Construction on the new Backyard triple chairlift and eight new ski runs is already underway, with completion anticipated in time for the 2015-16 ski and ride season. The new west-facing trails, which will be rated for beginner and intermediate skiers, are sandwiched between the mountain's existing North Face and The Ridge sectors.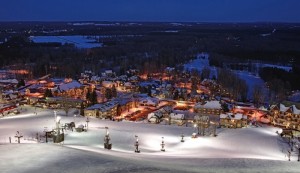 Crystal Mountain officials indicate that the design of the intermediate trails purposefully leaves the terrain's natural shape with rises, banks and rollers largely untouched, offering a skiing and snowboarding experience different than any other location on the mountain. Crystal has installed nearly a mile of new snowmaking pipe in order to use portable snowmaking units to cover The Backyard, and six new tower-mounted fan guns from Snow Machines Inc. of Midland, Mich., are being installed on the North Face complex as well.
The new Inn Residences lodge expansion will result in 25 additional overnight rooms slopeside, nearly doubling its overnight capacity. Seventy-five percent of the new rooms have already been pre-sold, and the Michigan Economic Development Corporation (MEDC) last Thursday announced a $463,370 grant to further fund the lodge expansion. Construction on the Inn Residences addition is targeted for completion in late 2016.
"It's incredibly exciting to be moving forward with this transformative project but the demand we've seen has been equally, if not even more encouraging about the future," says Chris MacInnes, chief operating officer for Crystal Mountain and president of Crystal Properties Inc. "We exceeded our target for pre-sales of Inn Residence shares which reflects the thought and planning that's gone into the project, and also momentum from a strong summer season."
A rooftop terrace of the LEED-certified structure will serve as an open-air, landscaped outdoor parlor and event venue, offering views of the slopes and surrounding village. The main level will include the addition of a coffee bar as well as a specialty market. A landscaped Village Plaza surrounding the Inn will serve as a gathering space in the heart of the resort village.