Park City, UT – Grammy Award-winning, Rock and Roll Hall of Fame inductees Metallica have teamed with ski and outerwear manufacturer Armada to create their own limited edition signature ski line for the 2015-16 season.
The Armada x Metallica collaboration, the result of close design work between the band and the ski brand, includes two models of skis (the Invictus 95Ti all-mountain ski and the JJ 2.0 powder ski), as well as special issues of Armada's Hans windbreaker jacket and Decker gloves, all featuring graphics adapted from Metallica's iconic Master of Puppets album cover.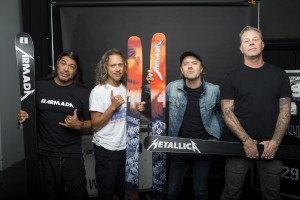 Metallica front man James Hetfield and drummer Lars Ulrich are both avid shredders, while bassist Rob Trujillo is equally passionate about his snowboard.
"Getting into the mountains has always been important to us," said Ulrich. "Armada is the most creative company in the ski industry, making them the perfect fit for this collaboration."
"If you told me when I was 12, listening to 'Kill 'Em All' at the skate ramp in the woods in Virginia, that we'd be working with Metallica someday, I would have told you to get lost," said Armada Co-founder Chris O'Connell. "It's insane to be able to introduce new people to Armada through the machine that is Metallica. They're the biggest rock band in the world."
The Armada x Metallica line is now available online and at select ski retail shops in limited quantities.