Montpelier, VT – After wrapping up camp in Park City, U.S. Ski Team Nordic athlete Andy Newell traveled home to Vermont for a quick two-week break before the World Cup season kicks into action. But it wan't all relaxation for Newell, who took time on Monday to speak with local public school students in Montpelier.
"Being from a rural area I think it's so important for kids to know that no matter where they're from they always have the opportunity to chase their dreams and do great things," Newell, who grew up in the small Vermont town of Shaftsbury, wrote in his blog. "That's why I was super excited to partner with Union Mutual of Vermont this Fall to set up some school visits in the Montpelier area."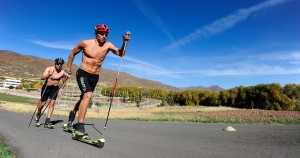 Newell headed to Union High School to discuss ski training and traveling the world, before he headed to Union Elementary School. Standing in front of an auditorium of fourth graders, Newell had a chance to fire up and inspire the kids. "[They can] become an Olympian if they want to, become the president of the United States they want to," he said. "That's my big message—trying to encourage kids to chase their dreams."
Newell shared photos and videos with the kids, taking time to answer each question asked. Though the ski experience ranged from a little boy stating he'd like to ski a black diamond this year to Newell talking about starting the World Cup season next week, every fourth grader was excited to hear from an Olympic athlete.
"I get super stoked to go and race these races knowing I have young fans at home cheering me on," said Newell.