Los Angeles, CA – Shaun White's Air + Style stadium snowboarding and music event will return to Los Angeles early next year, but in a different location.
The only North American edition of Air + Style will take place February 20-21, 2016 outside the Los Angeles Coliseum in Expo Park. The inaugural event took place earlier this year in front of 41,000 spectators at the Rose Bowl in Pasadena, where many competitions were scrubbed by a warm rain. Skier Gus Kenworthy walked away with the skiing title, with Japanese rider Yuki Kanodo winning the snowboarding event.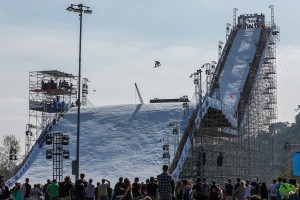 Plans for Air + Style call for a 16-story ramp at the Coliseum to fuel a big air competition. Twenty bands are scheduled to hit the stage throughout the two-day event including J. Cole, Incubus, HAIM, Big Grams, All Time Low, Action Bronson, Rudimental, A-Trak, Netsky, A$AP Ferg, Flatbush Zombies, Travis Barker (Drum & DJ set), The Struts, Migos, Bas, Cozz, Omen, and White's own ensemble, Bad Things.
Tickets to attend Air + Style in L.A. are now on sale on Front Gate with early ticket prices of $75 for one-day tickets and $135 for two-day tickets.
Air + Style originated in and has been taking place in Innsbruck, Austria, since 1993 and took off in Beijing, where it has come annually since 2010. In addition to Los Angeles, dates are set for Air + Style's return to the iconic Bird's Nest Stadium in Beijing December 4-5, 2015, as well as the Olympia World Stadium in Innsbruck February 6, 2016. Expansion to other cities is currently under consideration.