Ruka, Finland – Sadie Bjornsen, of Winthrop, Wash., and Jessie Diggins, of Afton, Minn., led the U.S. Cross Country Ski Team with solid 14th and 16th place finishes, after the second stage of the Ruka Triple in a 5k freestyle race on Saturday. The finish boosted Bjornsen into 11th in the standings after two stages of the mini-tour.
"I am looking forward to some more skating opportunities this season, because the race was so closely packed, and I know for sure there are things I can improve in the future," Bjornsen said.
In the woman's competition, Norway's Therese Johaug dominated the race with a 17.6-second lead over Charlotte Kalla of Sweden after getting tripped up climbing the last hill into the stadium, followed by Sweden's Ida Ingemarsdotter  in third. Johaug leads the tour.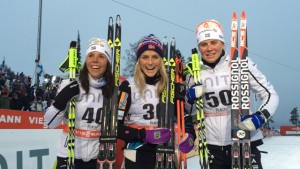 "It was a warm and foggy morning and the course held up really well. I was happy with my race but wanted more – I didn't ski it badly, but I also know where I could have picked off a few seconds here and there," Diggins admitted. "But for the first skate World Cup of the season, it's a good place to start!"
Norway's Martin Sundby won the men's 10k finishing over Canada's Alex Harvey and Dario Cologna of Switzerland to take the tour lead with one stage to go. Simi Hamilton, of Aspen, Colo., was top American in 49th.
"We've had better days in Ruka, but there certainly were some bright spots for the men's team," said U.S. men's head coach Jason Cork. "Kris Freeman was skiing a great race, including a several kilometers with Dario Cologna, before a crash with two kilometers to go took him out. We're also quite happy with Simi Hamilton's race. Although 49th place might not sound too impressive, he was only 34 seconds out of 30th place. For a racer who focuses on sprinting, that's a very strong result in a World Cup distance race."
The final stage of the Ruka Triple wraps up Sunday with a 15k/10k classic pursuit race. It will be streamed live on NBC Sports Live Extra with women at 4:15 a.m. EST and men at 5:30 a.m. EST.
"Tomorrow should be fun to start in a good position for some really tough classic skiing!" said Bjornsen. "There is a lot of climbing in this 10k, so it will be fun to see who is willing to burn their legs the most!"
OFFICIAL RESULTS
FIS Cross-Country Ski World Cup
Ruka, Finland – Nov. 28, 2015
Men's 5k Freestyle
Rank
Nation
Name
Total Time
Diff.
Time
1
NOR
SUNDBY Martin Johnsrud
21:05.5
2
CAN
HARVEY Alex
21:16.7
+11.2
3
SUI
COLOGNA Dario
21:17.1
+11.6
4
NOR
GLOEERSEN Anders
21:19.4
+13.9
5
SWE
JOHANSSON Martin
21:20.1
+14.6
6
NOR
KROGH Finn Haagen
21:26.3
+20.8
6
RUS
LEGKOV Alexander
21:26.3
+20.8
8
RUS
TURYSHEV Sergey
21:32.2
+26.7
9
FRA
MANIFICAT Maurice
21:37.9
+32.4
10
NOR
TOENSETH Didrik
21:38.5
+33.0
Women's 5k Freestyle
Rank
Nation
Name
Total Time
Diff.
Time
1
 NOR
JOHAUG Therese
14:27.3
2
 NOR
OESTBERG Ingvild Flugstad
14:27.7
+0.4
3
 NOR
WENG Heidi
14:32.2
+4.9
4
 SWE
INGEMARSDOTTER Ida
14:33.0
+5.7
5
 SWE
NILSSON Stina
14:38.5
+11.2
6
 SWE
KALLA Charlotte
14:42.8
+15.5
7
 NOR
FALLA Maiken Caspersen
14:43.1
+15.8
8
 NOR
HAGA Ragnhild
14:45.4
+18.1
9
 NOR
JACOBSEN Astrid Uhrenholdt
14:57.2
+29.9
10
 FIN
PARMAKOSKI Krista
15:02.1
+34.8