Eden, UT & Alto, NM – Skiers who went missing over the weekend in both Utah and New Mexico were successfully located by rescuers relatively unharmed.
In Utah, 33-year old Michael Nessl of California got lost after passing beyond Powder Mountain's boundaries on Friday. Nessl used his cell phone to contact his wife, who called in searchers who indicate that the rescue was made more difficult because Nessl kept moving.
"They located a lot of different tracks that circled around, back-tracked," said Weber County Sheriff's Office Lt. Brandon Toll. "They just were really confusing tracks for several hours."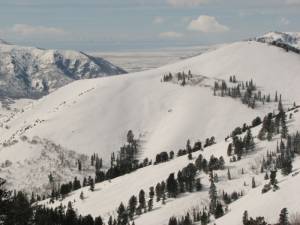 A Utah Dept. of Public Safety helicopter finally located Nessl in an off-limits area of Powder Mountain known as Lefties shortly after midnight, when the temperature had dipped to -4ºF. Nessl reportedly experienced minor frostbite, but was otherwise unharmed.
Also on Friday, two Ruidoso, N.M. men were reported missing after a day of skiing at Ski Apache in Alto. Cade Wooten, 23, and J.D. Roberts, 27, spent the night in a self-built snow shelter warmed by a small fire. Searchers with the Ski Apache Ski Patrol, White Mountain Search and Rescue, New Mexico Search and Rescue and New Mexico State Police located the pair just before noon on Saturday in the Indian Creek/Three Rivers area on the back side of Ski Apache. They were reportedly exhausted but uninjured.
"All of us at Ski Apache are thrilled that these two skiers have been rescued and are safe and unharmed," Ski Apache and  Inn of the Mountain Gods Chief Operating Officer Frizzell Frizzell Jr. said. "Our heartfelt thanks goes out to the employees, volunteers and search and rescue teams that worked tirelessly to ensure their safe return."