Wengen, Switzerland – After a cancellation on Wednesday, the athletes finally get a chance to test out the traditional Lauberhorn race course today in Wengen. This was only possible thanks to the hard work from the course crew, who worked late hours cleaning the course and injecting parts of it with water to firm up surfaces. Despite these efforts the race could not start from the original position due to weather conditions, and was moved down to the Alpine Combined start.
Speed king Aksel Lund Svindal of Norway was the fastest in Thursday's downhill training run, with a time of 1:49:66, even though he didn't push hard until the very end of the course.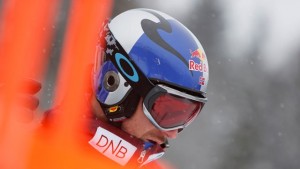 "It was a good run," said Svindal. "It's really bad light today, that makes it really hard to make a clean run because you can't see all the terrain and your skis are bouncing all over the place. I need to clean it up a little bit before race day for sure, but the speed is there and it looks alright."
Austria's Vincent Kriechmayr, who is coming closer and closer to the top-five group this season, was only 0.04 seconds off the Norwegian's pace and could lay down a strong run.
"The feeling was great!" said Kriechmayr. "I like this course and I'm always happy to come back to Wengen. The slope was in a good shape, just a little rough in the lower part, but we're used to this since Santa Caterina."
Italian Peter Fill, who started the season with a bang with two podium finishes in Lake Louise, rounded out Thursday's training podium.
"Yes, I'm satisfied with my training today," said Fill. "Everything was not perfect, but the parts I focused on went well. The slope is in a great shape today, so yes, it's all good."
Squaw Valley's Travis Ganong had the fastest training time for the U.S. Men on Thursday, crossing the finish line in ninth place, 1.44 seconds back of Svindal's time. He was followed by Utah's Steven Nyman in 27th, fellow Utahan Jared Goldberg in 32nd, Lake Placid, N.Y.'s Andrew Weibrecht in 39th, Tim Jitloff of Reno, Nev. in 41st, Wiley Maple of Aspen, Colo. in 52nd, and Squaw Valley, Calif.'s Marco Sullivan in 54th. Ted Ligety and Bryce Bennett finished together in 66th and 67th, respectively, roughly five and a half seconds back.
Friday is already race day, with the scheduled Alpine Combined starting at 10:30 a.m. local time (DH run) and 2 p.m. (SL run). The Combined will be followed by the longest downhill race in the world on Saturday (start at 12:30 p.m.) and the slalom run on Sunday (starts at 10:30 a.m. / 1:30 p.m.).
OFFICIAL RESULTS
FIS Alpine Ski World Cup
Lauberhorn Weekend – Wengen, Switzerland – Jan. 14, 2016
Men's Downhill Training #2 (first training run canceled)
| | | | | |
| --- | --- | --- | --- | --- |
| Rank | Name | Nation | Time | Diff. |
| 1 | SVINDAL Aksel Lund | NOR |  1:49.66 | |
|  2 | KRIECHMAYR Vincent | AUT |  1:49.70 |  +0.04 |
|  3 | FILL Peter | ITA |  1:49.74 |  +0.08 |
|  4 | REICHELT Hannes | AUT |  1:50.10 |  +0.44 |
|  5 | JANSRUD Kjetil | NOR |  1:50.25 |  +0.59 |
|  6 | CLAREY Johan | FRA |  1:50.51 |  +0.85 |
|  7 | FAYED Guillermo | FRA |  1:50.75 |  +1.09 |
|  8 | PARIS Dominik | ITA |  1:50.88 |  +1.22 |
|  9 | GANONG Travis | USA |  1:51.10 |  +1.44 |
|  10 | INNERHOFER Christof | ITA |  1:51.12 |  +1.46 |