Aspen, CO – A snowboarder alleges that a skier deliberately pushed him out of an Aspen Highlands chairlift on Sunday, the Aspen Times is reporting.
According to the newspaper, Aspen-based photographer Seth Beckton, 28, was riding the Loge Peak chairlift at Aspen Highlands with a male skier in his late 20s or early 30s and a third unidentified man.  Beckton says that he and the alleged perpetrator barely spoke for most of the lift ride, but as they neared the top of the lift Beckton made a seemingly innocuous comment that it's easier to get face shots on skis than it is on a snowboard.
"To get tits-deep pow shots you just need to be on your edges," Beckton said, as he later recounted on Facebook.
According to Beckton, the skier dressed in a burgundy and tan two-tone jacket, grey pants and a silver Giro helmet replied, "Are you laughing at me?"
Beckton recounted that he answered jokingly, "Kind of…yes??"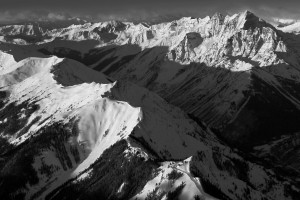 The stranger responded, "Well, is this funny?" as he pushed Beckton out of the chair. He says that he fell 20 to 25 feet, but fortunately landed in soft snow.
Beckton says that he wasn't injured in the fall. He admits that even though the incident allegedly occurred around 9:30 a.m., he didn't report it to ski area officials until the end of the day. Jeff Hanle, a spokesperson for the Aspen Skiing Company (ASC), told the Aspen Times that had Beckton reported the incident sooner, it would have been much easier to locate the alleged culprit. The newspaper also reports that Beckton has yet to notify area police, who together with ASC personnel are reviewing security video taken at Aspen Highlands on Sunday.
"I have a feeling I will be seeing him on the mountain again," Beckton commented.