Henniker, NH – Southern New Hampshire's Pats Peak ski area has announced a line-up of events this weekend including a slopestyle contest and the resort's annual Mascot Day.
The S&DUB Board Shop Slopestyle Contest takes place on Saturday, sponsored by Pats Peak, S&W Sports and Eastern Boarder. The contest will take place in the resort's Turbulence Park starting at 12:30 p.m. Registration is available from 9:30 a.m. to 11:30 a.m. Saturday in the Valley Lodge. To enter the contest, participants must have purchased at least a Valley Lift Ticket or have a Pats Peak Season Pass. All participants must sign a release of liability form, and contestants ages 17 years old and under need a parent to sign a parental consent.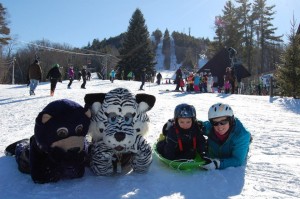 Then on Sunday it's Mascot Day at The Peak. Mascots from all over the area will be at Pats Peak for a Mascot Fashion Show along with fun activities. Guests can bring a camera to have their photo taken with some of the more than 20 mascots from around the state starting at 10 a.m., followed by a Fashion Show, Dance Off and Award Ceremony beginning at 1 p.m. Scheduled to attend are: Boris, the Bear – Pats Peak; Snowball, the Snowtiger – Pats Peak; Fungo – Fisher Cats; Crash – Manchester Monarchs; Max – Manchester Monarchs; Smokey the Bear – U.S. Forest Service; Oakie – Oakhurst Dairy; Chucky – Chucky Cheese; Monty, the Mallard – Mount Washington Cruise; McGruff – The Crime Dog; Sparky – The Fire Dog; Ribby – Keene Swamp Bats; Milo – New Hampshire Motor Speedway; Daren-the-Lion – D.A.R.E. America; Gurt – Stonyfield Organic; and L.L. Bear – L.L. Bean.
"Mascot Day was created for a fun day for families to come out and celebrate outdoor winter family fun," said Jim Wall, Events Director at Pats Peak.