Glasgow, Scotland – National Governing Body, Snowsport Scotland recently held its first national female-focused event named #shemakestracks in a bid to introduce more women and girls to snow sports, keep existing women in snow sports and to produce more high performance female athletes.
Held at Bearsden Ski Club in Glasgow, the fun and social event proved a huge success with over 30 attendees and a jam packed itinerary for females of all disciplines to take part in. Introductory ski and snowboard sessions were held in order to engage women new to snow sports, improvement classes for those a little more advanced, along with the opportunity to try freestyle or alpine skiing and snowboarding.
The event is part of a wider equality campaign dubbed #IAMSNOWSPORT, which was launched in November last year. The campaign aims to promote snow sports as an enjoyable activity for all members of the Scottish community – focusing primarily on women, lesbian, gay and bisexual (LGB) and those living with a disability.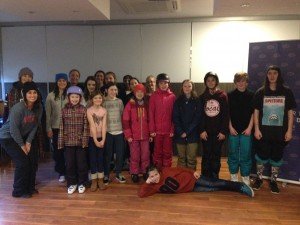 A number of sponsors were also invited along to the event to showcase products and services including Ellis Brigham, Pre-Fit as well as Pilates Dundee and Lululemon Glasgow offering free introductory yoga and pilates sessions. A highlight of the day included mental strength workshops and performance coaching from Team GB Park and Pipe Skier, Anna Vincenti – a unique opportunity for all attendees.
"The female-focused #shemakestracks event proved a fantastic start to our wider equality campaign #IAMSNOWSPORT," commented Jane Campbell Morrison, CEO at Snowsport Scotland. "Our main aim is to support female participation in snow sports – whether this is encouraging more women to try skiing for the first time or gathering Scotland's top female snowboarders together to push themselves and each other to achieve more."
Snowsport Scotland now has high hopes that the organization's clubs will take on the framework for the #shemakestracksevents and roll out the concept across a wide range of clubs in Scotland, increasing the campaign's reach. The organization also aims to communicate the event's success and future events to all outdoor sport governing bodies in order to create partnerships and work together on a possibly larger campaign.
"Our aim is to promote snow sports in Scotland as a sport for all – regardless of sex, sexual orientation or disability. All of our events aim to not only promote this but also to provide a confident, comfortable, fun and social environment for all communities to participate in, whatever their ability," continued Morrison.