Park City, UT – American snowboarders Chloe Kim and Matt Ladley brought home a double victory for the host nation at this season's penultimate halfpipe World Cup event, the U.S. Grand Prix which was staged at Park City Mountain Resort on Saturday.
Coming off of performances in Aspen, Colo., both 2016 X Games gold medalists paved the way for their career's first World Cup wins with flawless first runs that set the bar too high for the rest of the field in the three-run, best-one-counts final.
But it was Kim, of La Palma, Calif., who would take home most of the glory.
At only 15 years old, the up-and-coming women's halfpipe superstar continued the momentum of her X Games win in her last run by stomping the first ever back-to-back 1080's in a contest. With a gigantic and perfect score of 100, another first for women's snowboarding, Kim led a U.S. podium sweep with her teammates Maddie Mastro (92.00) and Kelly Clark (89.25) placing second and third, respectively.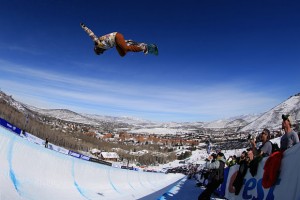 "I was surprised that run was a 100, since I only had four hits, but I'm pretty sure it was because of the hype," said Kim, who also earned the title of U.S. National Halfpipe Champion with her Park City win. "I just think it's really cool, and I don't really care of score at that point, and I'm really stoked I could put down my run with back-to-back 10s. Today was just so perfect, and I saw the opportunity to try it so I just went for it! It's going to give me a huge confidence boost going into the next competition."
In the men's event, Ladley was able to up his game with a 95.50 for his second run, edging out Japanese shredders Ryo Aono (92.00) and Naito Ando (90.50) to second and third, respectively.
Ladley, who won the X Games gold in a one-run-and-done format due to weather last week in Aspen, was happy to earn the win at the next big competition of the season.
"It's definitely not the way I would want to win X Games," said Ladley, of Steamboat Springs, Colo. "I kept saying we'll go to the next contest, and it worked out here again for me, so I guess just on to the next one."
The next one worked out well for Ladley, indeed.
"It was great. I'm happy, and I had a lot of fun. I guess I just rode better than I have in a while," said Ladley. "This year I really wanted to go big because I have fun doing it, you know, going fast, going big, riding well that's my favorite part, and this is what I focus on, and I did that very well today."
With only one halfpipe contest remaining on the World Cup calendar, Sunday's second-place finish was still enough for Aono to secure his third career halfpipe title, repeating season-long success that he enjoyed in 2007 and 2009.
On the women's side of things, Clark (2,000) leads the race for the Crystal Globe with Kim sitting in second (1,800).
The freestyle World Cup snowboard circuit will now be heading to Boston for the season's first big air event, will take place in the Red Sox' famed Fenway Park this Thursday. The halfpipe World Cup tour will wrap things up with a final event in Sapporo, Japan this weekend.
OFFICIAL RESULTS
FIS Snowboard World Cup
U.S. Grand Prix – Park City, UT – Feb. 6, 2016
Women's Halfpipe
| | | | |
| --- | --- | --- | --- |
| Rank | Nation | Name | Score |
| 1 | USA | KIM Chloe | 100.00 |
| 2 | USA | MASTRO Maddie | 92.00 |
| 3 | USA | CLARK Kelly | 89.25 |
| 4 | CHI | CAI Xuetong | 88.25 |
| 5 | CHI | LIU Jiayu | 74.75 |
| 6 | USA | GOLD Arielle | 72.25 |
| 7 | SPA | CASTELLET Queralt | 79.25 |
| 8 | SUI | ROHRER Verena | 76.50 |
| 9 | USA | HIGHT Elena | 73.50 |
| 10 | JPN | MATSUMOTO Haruna | 72.25 |
Men's Halfpipe
| | | | |
| --- | --- | --- | --- |
| Rank | Nation | Name | Score |
| 1 | USA | LADLEY Matthew | 95.50 |
| 2 | JPN | AONO Ryo | 92.00 |
| 3 | JPN | ANDO Naito | 90.50 |
| 4 | SUI | BURGENER Patrick | 89.75 |
| 5 | USA | PATES Jame | 88,00 |
| 6 | USA | BRETZ Gregory | 87.75 |
| 7 | USA | ESSER Brett | 80.25 |
| 8 | AUS | JOHNSTONE Nathan | 76.25 |
| 9 | AUS | CALLISTER Kent | 71.50 |
| 10 | FRA | BAISAMY Johann | 69.50 |