Garmisch-Partenkirchen, Germany – The battle for the overall World Cup title heated up again on a warm, springlike day at the Audi FIS Ski World Cup as Switzerland's Lara Gut got the best of Lindsey Vonn in Sunday's Kandahar super G.
Vonn was gunning for World Cup win No. 77 following her commanding victory in Saturday's downhill, but Gut, who finished a disappointing 14th on Saturday, rebounded to take her 16th World Cup win.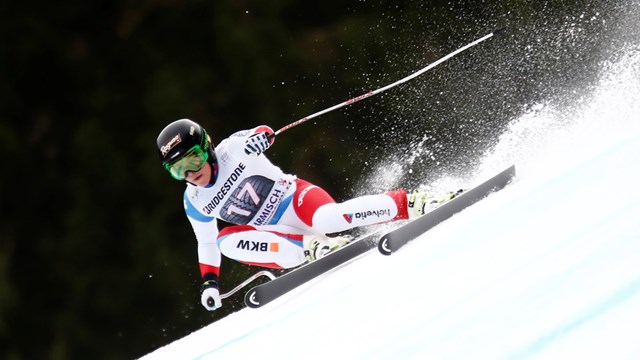 "Yesterday, I wasn't really skiing," said Gut, whose previous career-best result in Garmisch was a fourth in the downhill in 2013. "I wasn't doing what I can. Today was just about less thinking and more skiing and yeah, that was the answer. I just tried to ski and it went out the way I wanted. I felt great, so yes, everything is fine again."
Germany's Viktoria Rebensburg, third in the downhill, finished second in the super G.
"It's so cool," Rebensburg said. "Being on the podium twice in a row here in front of a home crowd. It is unbelievable. The crowd was cheering so loud for us and it was just a nice atmosphere. I'm really thankful and I'm really enjoying this moment now."
Vonn settled for third Sunday after making a brilliant recovery five gates from the finish, when her right ski went airborne after hitting a bump in the snow.
"The snow was soft, like spring," Vonn said, although the track was salted before the race in an effort to firm up surfaces. "I didn't risk everything, I probably could have, but I feel like I'm older and wiser now, and to get to the finish healthy and be in third is still a pretty darn good day.
"I knew that I didn't ski my best and I knew that I didn't risk everything," she added, "and that's what it took today. Lara had a really good run, and she risked it all."
With three super G wins under her belt this season going into Sunday's race, Vonn was poised to become the first woman to win the first four super G events of a World Cup campaign.
"I can't win them all," Vonn said at the press conference. "I tried my best to ski my best every day and I think I've done a pretty good job so far this season. You know, today was just not one of those days where I really felt like putting it all on the line. I've had a great season so far and I want to keep it going, so it's better to be safe than sorry."
With Sunday's victory, Gut's 973 total points is now 87 points behind Vonn's 1060 points in the back-and-forth chase for the over World Cup title. Rebensburg is third overall with 820. Vonn also leads the World Cup super G standings by 99 points over Gut.
Lauren Ross, of Bend, Ore., scored her best super G finish of the season in 10th – it was also her third career top 10 World Cup super G result. For the rest of the Americans, Stacey Cook (Mammoth Mountain, Calif.) was 31st, Breezy Johnson (Salt Lake City, Utah) 35th, Alice McKennis (New Castle, Colo.) 36th, Anna Marno (Steamboat Springs, Colo.) 39th and Abby Ghent (Edwards, Colo.) 44th.
After the race, Vonn, McKennis, Cook, Wiles and the coaching staff hung out at the U.S. Military Base here in Garmisch with a big crew of Armed Forces and their families to watch the Denver Broncos and the Carolina Panthers in Super Bowl 50.
"The Broncos game is tonight and if they win, it'll make up for my third place," Vonn said before game time. Of course, the Broncos went on to win the contest 24-10 over the Panthers.
The World Cup women head next to Crans Montana, Switzerland for downhill and combined Feb. 13-14. Crans Montana will also host women's World Cup slalom, which replaces the cancelled Maribor, Slovenia event, on Monday, Feb. 15.
OFFICIAL RESULTS
FIS Alpine Ski World Cup
Garmisch-Partenkirchen, Germany – Feb. 7, 2016
Women's Super G
| | | | | |
| --- | --- | --- | --- | --- |
| Rank | Name | Nation | Time | Diff. |
|  1 | GUT Lara | SUI |  1:20.51 | |
|  2 | REBENSBURG Viktoria | GER |  1:20.66 |  +0.15 |
|  3 | VONN Lindsey | USA |  1:20.74 |  +0.23 |
|  4 | WEIRATHER Tina | LIE |  1:21.22 |  +0.71 |
|  5 | HUETTER Cornelia | AUT |  1:21.43 |  +0.92 |
|  6 | KLING Kajsa | SWE |  1:21.47 |  +0.96 |
|  7 | GOERGL Elisabeth | AUT |  1:21.55 |  +1.04 |
|  8 | FANCHINI Nadia | ITA |  1:21.66 |  +1.15 |
|  9 | BRIGNONE Federica | ITA |  1:21.67 |  +1.16 |
|  10 | ROSS Laurenne | USA |  1:21.79 |  +1.28 |