Garmisch-Partenkirchen, Germany – Lindsey Vonn absolutely crushed the Kandahar downhill course in Saturday's Audi FIS Ski World Cup to take her record 76th World Cup victory. Vonn's winning time of 1:40.80 was 1.51 seconds faster than Switzerland's Fabienne Suter in second. Germany's Viktoria Rebensburg was third.
"It was a great day!" Vonn said. "Every day is a new chance to break my own record, which is kind of weird to say, but it still makes it exciting. Every win for me is more special than the last. And my dad is here, so it's really special."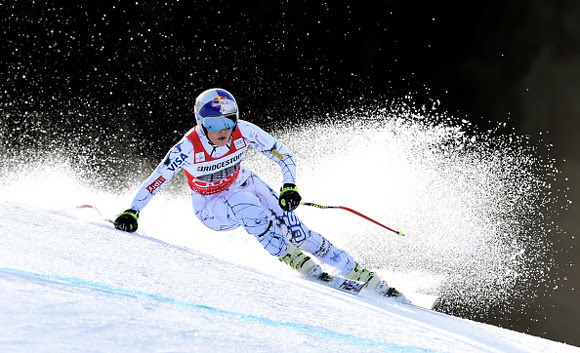 Vonn extended her overall World Cup lead over Switzerland's Lara Gut, who finished a disappointing 14th on Saturday. Vonn also leads the World Cup downhill standings by 162 points over Canada's Larisa Yurkiw, who was fourth Saturday.
Weather and inconsistent course conditions have been a challenge at numerous World Cup stops this season, and this week at Garmisch was no exception. In Thursday's downhill training run – also won by Vonn – the course was slowed by wet, heavy snow. For Saturday's race, it was a completely different situation with a hard, fast and bumpy snow surface, thanks to the countless hours the course crew put into preparing the track.
"It was definitely a lot different today than it was in the training run, pretty much a totally different course," Vonn said. "It was definitely bumpy … and very flat light in some sections."
Lauren Ross (Bend, Ore.) posted her fifth career top-five downhill result – finishing fifth on the fast and bumpy classic Kandahar track for her best result of the season. Stacey Cook (Mammoth Mountain, Calif.) was 17th, Jacky Wiles (Aurora, Ore.) 21st and Breezy Johnson (Salt Lake City, Utah) posted a career-best World Cup finish in 28th. Alice Merryweather (Hingham, Mass.), making her third career World Cup start, finished 37th.
"It was a little bit rough out there," Ross added. "It was definitely a lot faster than (Thursday's) training run, completely different snow. It was kind of like a super G day, where you really didn't know what was going to happen; the line changed in places and it was really bumpy."
Only two of the first seven racers crossed the finish line, including Wiles, who took the early lead as the next three competitors, including teammate Alice McKennis (New Castle, Colo.) failed to finish. Meanwhile, Vonn was watching the race at the start.
"I could see that there were some problems," Vonn said. "There were some bumps, and the problem is that the bumps were right in the compressions, and also where there were shadows, so you couldn't really see anything.
"It was definitely bumpy … and very flat light in some sections," Vonn continued. "I was able to execute it well in the right places, and carry my speed through the whole course."
OFFICIAL RESULTS
FIS Alpine Ski World Cup
Garmisch-Partenkirchen, Germany – Feb. 6, 2016
Women's Downhill
| | | | | |
| --- | --- | --- | --- | --- |
| Rank | Name | Nation | Time | Diff. |
| 1 | VONN Lindsey | USA |  1:40.80 | |
|  2 | SUTER Fabienne | SUI |  1:42.31 |  +1.51 |
|  3 | REBENSBURG Viktoria | GER |  1:42.37 |  +1.57 |
|  4 | YURKIW Larisa | CAN |  1:42.60 |  +1.80 |
|  5 | ROSS Laurenne | USA |  1:42.77 |  +1.97 |
|  6 | WEIRATHER Tina | LIE |  1:42.79 |  +1.99 |
|  7 | MIKLOS Edit | HUN |  1:42.93 |  +2.13 |
|  8 | FANCHINI Nadia | ITA |  1:43.13 |  +2.33 |
|  9 | FANCHINI Elena | ITA |  1:43.18 |  +2.38 |
|  10 | SUTER Corinne | SUI |  1:43.34 |  +2.54 |