Park City, UT – Developers have proposed reconfiguring the resort village at the base of what once was Canyons Resort, now part of Park City Mountain Resort in Utah, and they're receiving very little resistance from the community over their efforts.
The plans were unveiled by land owner TCFC Finance Co. and Canyons Village master developer Replay Resorts at a public open house held at the Grand Summit Hotel in early September, where no significant opposition was voiced. The new Canyons Village Master Plan calls for a reconfiguration of roughly 2.3 million of square feet of development in the upper and lower villages, as well as new hotel and residential space and a new lift connecting a new skier plaza at the north end of the village with the ski mountain in the direction of the new Quicksilver Gondola that connects the former Canyons Resort terrain to that of the former Park City Mountain. A new pedestrian walkway would link the Village with the Canyons golf course opened by TCFC in 2014. Some 340 employee housing units consisting of studio and two-bedroom apartments are also proposed for the lower village.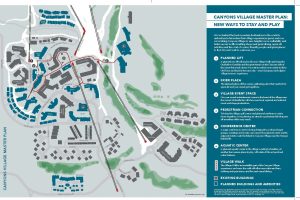 Overcoming one acknowledged weakness of the current Canyons Village layout, some 250 short-term parking spaces are earmarked for the upper village. At the moment, most visitors not staying at Canyons Village overnight park at the lower village and ride the resort's Cabriolet lift to the upper village.
A parking garage and transit hub, indoor aquatic center, conference center near the Orange Bubble lift, and a village walk lined by stores, cafés and bars are also all on the drawing board. Work on the 63-unit Apex Residences, a mix of ski-in/ski-out homes sited on 10 acres near the angle station of the Red Pine Gondola, has already begun, with the first unit scheduled for completion by winter 2017-18. Twenty-six units were already under contract in July, with prices starting at $1,675,000.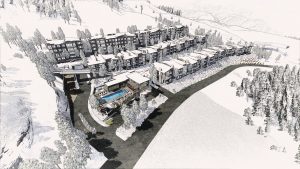 Developers indicate that the changes will create a much more "walkable" layout at Canyons Village for year-round enjoyment. Build-out is expected to take seven to 10 years.
"Additional excitement is mounting as the Canyons Village master plan moves forward with upcoming shops, restaurants and amenities that are set to transform the already vibrant Canyons Village into the center of year-round leisure and recreation in Park City," says Tony Tyler, Senior Project Director and Partner for Apex Residences.