Ruka, Finland – One ski resort in Finland has proven that even if it hasn't snowed yet this winter, and you haven't started making snow, you can still ski!
Ruka ski resort is open today with one trail and two lifts. Winter had yet to arrive in northern Finland back on October 10, when Ruka pulled back a tarp covering a stockpile of what remained of 30,000 cubic meters of last winter's leftover snow and turned on the lifts for eager skiers and riders.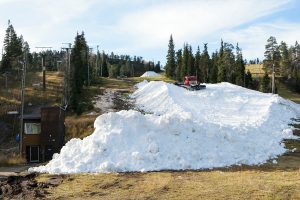 Left in three gigantic mounds to combat the Arctic summer, about half of the white stuff remained for Ruka's groomers to push into a single run 65 feet wide, with base depths of up to three feet.
"Storing snow makes it possible to access the slope on a specific date each year," explains Matti Parviainen, Ruka's operational director. "At the end of the season we can announce when we next open up. Another good thing about the method is that, when done during very low temperatures, it conserves energy, as there's more snow during below zero temperatures. Thus it is very energy efficient, which is good for the environment."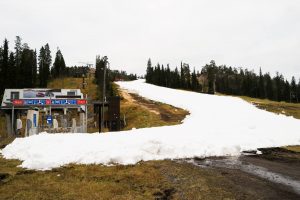 "Sounds amazing. I'm excited to be able to hit the slope at the start of the season without having to go abroad," added pro snowboarder Enni Rukajärvi. "I'm a very eco-conscious person myself, so it's great to hear that this method actually conserves energy. It was so cool to have my first run of the season at Ruka."