Stowe, VT – On November 19, the Vermont Ski and Snowboard Museum will induct four pioneers in the state's long ski and ride history into the Vermont Ski and Snowboard Hall of Fame.
The special "Schuss" celebration honoring the four inductees will be held at the Stoweflake resort in Stowe, and feature a silent auction as well as tributes to the inductees. Also at the event, the Paul Robbins Journalism Award will be presented to Mary McKhann, editor of The Snow Industry Letter.
The 2016 Hall of Fame inductees represent the wide influence Vermont and Vermonters have had on skiing and snowboarding. Past recipients include legends in the sport, ranging from early trail blazer Craig Burt to snowboard pioneers Jake and Donna Carpenter, and competitors such as freestyle skier Suzy Chaffee, alpine racer Billy Kidd, cross-country racer Bill Koch and snowboarder Ross Powers.
The four inductees for 2016 are: Lloyd "Chip" LaCasse, University of Vermont Ski Coach from 1969 to 2003; Stan Dunklee, two-time Olympian and U.S. National Champion Nordic skier; Paul Graves, snowboarding pioneer and National "Snurfer" Champion; and Rosie Fortna, U. S. Alpine ski racer, 1968 Olympian  and gold medalist at the 1970 World University Games.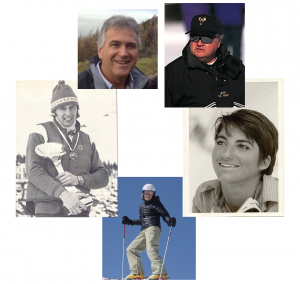 Chip LaCasse is credited with building the University of Vermont ski program into one of the nation's best. During his tenure at UVM, LaCasse built the Catamount program into a national power, leading the Cats to six national titles, 10 runner-up finishes and a record 28 Eastern Intercollegiate Ski Association (EISA) championships. Named EISA Coach of the Year a record seven times, LaCasse helped his skiers earn 44 individual NCAA titles and more than 250 All-America certificates during his remarkable 33-year run at UVM.

Stan Dunklee skied for LaCasse at the University of Vermont, winning an individual NCAA Cross Country championship in 1976 and becoming a two-time All-American. Dunklee competed in two Olympics (1976 and 1980) for the United States. He was the U.S. National Champion multiple times: 1976 – U.S. National 50K champion; 1977 and 1978 – U.S. National 15K champion; 1977 and 1979 – U.S. National 50K champion; 1980 and 1982 – U.S. National 30K champion.

Paul Graves started "surfing" on snow before the term "snowboard" was coined. In 1964 when heavy snow fell near his home in East Brunswick, N.J., he grabbed a single old ski out of a friend's garage and headed for the local sliding hill. He just stood with both feet balancing upon the ski to slide down the hill. Graves moved up to the "Snurfer" when it was introduced and began experimenting with tricks such as 360s and flips. In 1979 he won the U.S. Snurfer Freestyle Championship in Michigan. In 1982 he organized what is now recognized as the first national snowboarding championship at Suicide Six in Woodstock, Vt.

Rosie Fortna and her family moved to Moretown, Vt., in 1954. Fortna would learn to ski at Mad River Glen where her father was a ski instructor, and she earned the coveted gold "no stop no fall" pin when she was just 10 years old. She trained with the Mount Mansfield Ski Club where she became a successful junior skier, winning races throughout New England. This included winning the Stowe Sugar Slalom when Sepp Ruschp gave winners a season pass for the following year. In 1965 Fortna was named to the U.S. National Team under Coach Bob Beattie and competed in the 1968 Olympics. Her best competitive year was 1970 when she won the U.S. National Championship, the Canadian National Championship, and three gold medals at the World University Games in Finland.
The Paul Robbins Award winner Mary McKhann worked at the Manchester (Vermont) Journal in the mid-1980s and began covering ski racing when her young sons became involved. This would lead to a job as the ski reporter for the Rutland Herald. In 1992 she moved to Waitsfield, Vt., to take a job with Ski Racing International which produced five skiing-related publications. Eventually she became editor of The Snow Industry Letter (TSIL). When TSIL owner Bob Gillen passed away, she bought the business and now says, "I am publisher, editor, janitor, and chief operating officer, putting out 48 newsletters a year."
Tickets to this year's induction gala and further information are available on the Vermont Ski and Snowboard Museum website,
www.vtssm.com
.