Adelboden, Switzerland – Alexis Pinturault battled a tough course and flat light in Adelboden on Saturday to take his 19th Audi FIS Ski World Cup win, making him the most successful French skier of all time—over the famed Jean-Claude Killy.
Marcel Hirscher of Italy put down a blazing second run of giant slalom, but finished second overall, just .04 seconds behind Pinturault. Hirscher's teammate Philipp Schoerghofer was third.
"I thought when I crossed the line that it was long enough for me today, one or two gates more and I would be maybe behind so I'm really happy about those four hundredths," said Pinturault, of Courchevel. "It's a victory, so it's something very special. I heard the crowd but it was more or less like every time; you make the first run and then you have to make also the second run and push even maybe harder in the second run."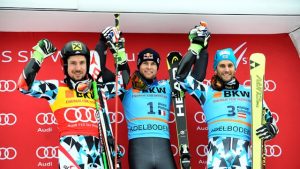 Hirscher's result brought him to 100 World Cup podiums—level with Marc Girardelli's podium count—making him the second most successful skier in history, behind Ingemar Stenmark (155).
"You know, I'm super, super happy with my second run today, another eighty points in the books," said Hirscher. "For sure, first run was, with this mistake, not what I was hoping for and if I want to search for four hundredths of a second, this was the mistake in the first run, that is for sure. I am super happy with my skiing in the second run, that was amazing and it felt great and so it is a good day."
The Americans skied well, with Tommy Ford (Bend, Ore.) and Brennan Rubie (Salt Lake City, Utah) sitting 13th and 14th, respectively, after the first run. Though course set and flat light hindered them second run, both grabbed points from the day.
"I thought I skied well," said Ford, who finished 19th. "It's dark light and I was moving well through most of the course. I had a hard time generating on that set and on the bottom, it's just getting used to it. It's definitely a challenging bottom section, but I'm happy to have more time on it and get points."
Behind Ford, Rubie scored his first giant slalom points, finishing in 24th. "I was pretty happy with the way it turned out," said Rubie, who referenced the tough light, but acknowledged that he made a few mistakes. "It was more just my skiing and I have a ways to go, but I'm happy with getting my first points in GS."
OFFICIAL RESULTS
Audi FIS Alpine Ski World Cup
Adelboden, Switzerland – Jan. 7, 2017
Men's Giant Slalom
| Rank | NATION | Name | Run 1 | Run 2 | Tot. Time | Diff. Time | WC Points |
| --- | --- | --- | --- | --- | --- | --- | --- |
| 1 | FRA | PINTURAULT Alexis | 1:12.91 | 1:11.08 | 2:23.99 | | 100 |
| 2 | AUT | HIRSCHER Marcel | 1:13.61 | 1:10.42 | 2:24.03 | +0.04 | 80 |
| 3 | AUT | SCHOERGHOFER Philipp | 1:13.55 | 1:12.38 | 2:25.93 | +1.94 | 60 |
| 4 | NOR | KRISTOFFERSEN Henrik | 1:14.22 | 1:11.80 | 2:26.02 | +2.03 | 50 |
| 5 | FRA | FAIVRE Mathieu | 1:14.44 | 1:11.60 | 2:26.04 | +2.05 | 45 |
| 6 | SWE | OLSSON Matts | 1:14.70 | 1:11.37 | 2:26.07 | +2.08 | 40 |
| 7 | FRA | MUFFAT-JEANDET Victor | 1:14.33 | 1:11.86 | 2:26.19 | +2.20 | 36 |
| 8 | GER | NEUREUTHER Felix | 1:14.92 | 1:11.34 | 2:26.26 | +2.27 | 32 |
| 9 | ITA | EISATH Florian | 1:15.47 | 1:11.29 | 2:26.76 | +2.77 | 29 |
| 10 | FIN | TORSTI Samu | 1:15.72 | 1:11.21 | 2:26.93 | +2.94 | 26 |