Lake Tahoe, CA – The same massive plume of Pacific moisture that's causing flooding across the lowlands of California is closing ski resorts across the Sierra Nevada Mountains.
All ski resorts surrounding Lake Tahoe closed on Sunday, and snow levels have been high but are expected to lower to 4,500 feet today before rising again to 6,000 feet on Tuesday night. Power outages kept Heavenly Mountain Resort closed on Sunday and the resort remains closed today as its California side is still without power and winds continue to howl. Avalanche hazards that closed Sugar Bowl Resort on Sunday persist today, which along with a power outage across Donner Summit is keeping the ski area closed today.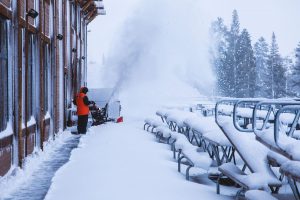 "Winds sustained 100 m.p.h. on the ridge today with gusts peaking up to 175 m.p.h.," Squaw Valley Alpine Meadows officials posted in an operations update on Sunday. "These conditions kept us from traveling to the majority of our mountain facilities and terrain today, and therefore we have been unable to access and repair possible damage caused by these severe conditions. Sunday's heavy rain followed by the incoming heavy snowfall will likely cause delays over the next few days as we work to repair any damage that happened on the mountain and in the base area. Severe weather and high winds will impact our operations, and our teams will be out there working hard to open terrain for skiing and riding while at the same time making sure that our terrain is safe for our guests. We appreciate you being patient as we are working hard to return to normal operations."
High winds and lightning also closed Mammoth Mountain on Sunday, where upper elevations have recorded as much as 84 inches of new snow in the past two days. Despite this, "Let's just say it's not a winter wonderland … high winds, thunder, lightning and rain in town," Mammoth Mountain officials tweeted. Residents in the town of Mammoth Lakes were sandbagging homes and businesses to try to forestall flooding caused by rain and melting snow.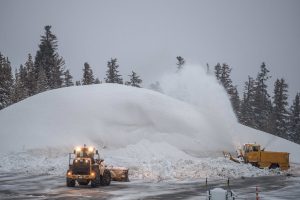 The copious rain melting the area snowpack is also swelling area rivers. The Truckee River has exceeded its flood level by as much as six feet, forcing the evacuation of about 1,300 residents from a Reno neighborhood. A major mudslide on Donner Summit closed I-80 in both directions Sunday evening after depositing as much as seven feet of debris on the roadway.
Further south, Bear Valley ski resort has been closed since Saturday, and does not plan to reopen until Wednesday.
"The large amounts of rain received thus far has been met by a small team of operations and maintenance crew on site today managing the running water/flood areas and keeping an eye on the facilities, lift houses and Village areas throughout the greater part of the day," Bear Valley officials said this morning in a prepared statement. "We thank our teams on site working hard to maintain structures and access areas through these harsh conditions."