Maribor, Slovenia – After finishing fourth in Saturday's giant slalom, Colorado's Mikaela Shiffrin notched her 24th World Cup slalom victory on Sunday in Maribor, Slovenia.
Shiffrin charged to her 12th career top-five giant slalom result on Saturday, finishing fourth in a race won by Tessa Worley of France ahead of Italy's Sofia Goggia in second and Swiss Lara Gut in third.
"It's intense, but it's awesome because it's only in skiing that you can feel this feeling," said Worley. "I was so happy at the end to see that I was winning. It's a great fight and I'm really happy that all the girls are wanting to win every race and making it so hard. I'm happy because it pushes me to get to my best level."
Shiffrin took a slim 0.07 first-run lead over Goggia on a straight course set. On the second run, she charged the middle section of the course – grabbing a 0.13-second lead at the second split – but wasn't able to carry her speed through to the finish.
"It was a super fast course and I didn't quite match the speed that I was carrying," Shiffrin said. "I'm still learning, so all in all, it's not a terrible day."
But Sunday was even better for Shiffrin, when she won the slalom and extended her overall World Cup lead to more than 300 points. After taking a 0.17 first-run lead over Switzerland's Wendy Holdener, Shiffrin powered through the second run to win her 27th career World Cup race. Holdener finished second as Sweden's Frida Hansdotter was third.
Like a number of skiers before her in the second run, Shiffrin battled not only a tough, grippy course, but also numerous broken gates. Midway down the course, she broke a gate that got caught up between her legs. But without missing a beat, she powered through the obstacle, carrying her speed through to victory.
"I saw a lot of gates were breaking when I was watching the other girls and I thought that probably it would happen for me as well, and it did," Shiffrin said. "But with everyone else, it seemed the (broken) gate went out of the way. But for me, it kept getting stuck on my skis and boots. It was a bit distracting, but I don't think it cost me too much."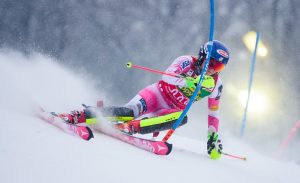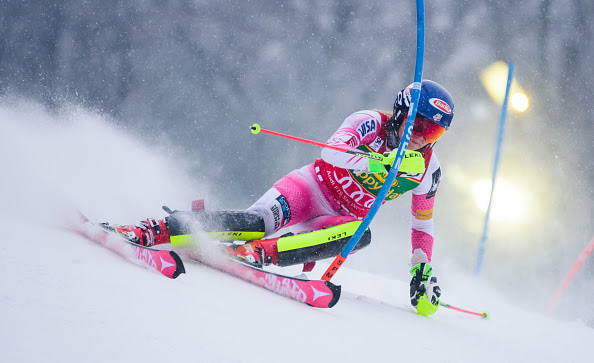 With the win, Shiffrin now has a 305-point lead over Gut, who did not qualify for the second run Sunday.
"As a kid, I dreamed about being the best in the world at all the different events, so this is another step in the right direction to be performing well in two events at least," said Shiffrin, who also leads the overall World Cup slalom standings with 500 points. "In my career, one of the goals I want to accomplish is the (World Cup) overall. I don't know if it will happen this year, but eventually that will be a big goal for me."
Up next, the ladies compete in a night slalom Tuesday in Flachau.
OFFICIAL RESULTS
FIS Alpine Ski World Cup
Maribor, Slovenia
Women's Giant Slalom – Jan. 7, 2017
| Rank | NATION | Name | Run 1 | Run 2 | Tot. Time | Diff. Time | WC Points |
| --- | --- | --- | --- | --- | --- | --- | --- |
| 1 | FRA | WORLEY Tessa | 1:08.33 | 1:08.63 | 2:16.96 | | 100 |
| 2 | ITA | GOGGIA Sofia | 1:08.20 | 1:08.92 | 2:17.12 | +0.16 | 80 |
| 3 | SUI | GUT Lara | 1:08.49 | 1:08.72 | 2:17.21 | +0.25 | 60 |
| 4 | USA | SHIFFRIN Mikaela | 1:08.13 | 1:09.25 | 2:17.38 | +0.42 | 50 |
| 5 | GER | REBENSBURG Viktoria | 1:08.72 | 1:09.22 | 2:17.94 | +0.98 | 45 |
| 6 | NOR | MOWINCKEL Ragnhild | 1:09.44 | 1:08.64 | 2:18.08 | +1.12 | 40 |
| 7 | ITA | MOELGG Manuela | 1:08.59 | 1:09.57 | 2:18.16 | +1.20 | 36 |
| 8 | SLO | DREV Ana | 1:08.67 | 1:09.58 | 2:18.25 | +1.29 | 32 |
| 9 | CAN | GAGNON Marie-Michele | 1:08.87 | 1:09.43 | 2:18.30 | +1.34 | 29 |
| 10 | FRA | FRASSE SOMBET Coralie | 1:09.24 | 1:09.30 | 2:18.54 | +1.58 | 26 |
Women's Slalom – Jan. 8, 2017
| Rank | NATION | Name | Run 1 | Run 2 | Tot. Time | Diff. Time | WC Points |
| --- | --- | --- | --- | --- | --- | --- | --- |
| 1 | USA | SHIFFRIN Mikaela | 49.84 | 49.77 | 1:39.61 | | 100 |
| 2 | SUI | HOLDENER Wendy | 50.01 | 49.79 | 1:39.80 | +0.19 | 80 |
| 3 | SWE | HANSDOTTER Frida | 50.22 | 49.70 | 1:39.92 | +0.31 | 60 |
| 4 | SLO | VLHOVA Petra | 50.32 | 49.70 | 1:40.02 | +0.41 | 50 |
| 5 | NOR | LOESETH Nina | 50.40 | 50.09 | 1:40.49 | +0.88 | 45 |
| 6 | CZE | STRACHOVA Sarka | 50.66 | 50.29 | 1:40.95 | +1.34 | 40 |
| 7 | SLO | BUCIK Ana | 51.40 | 49.69 | 1:41.09 | +1.48 | 36 |
| 8 | AUT | SCHILD Bernadette | 51.19 | 49.94 | 1:41.13 | +1.52 | 32 |
| 9 | ITA | COSTAZZA Chiara | 51.41 | 50.04 | 1:41.45 | +1.84 | 29 |
| 10 | SLO | STUHEC Ilka | 51.30 | 50.16 | 1:41.46 | +1.85 | 26 |