Kronplatz, Italy – In front of the home-country crowd, Italy went 1-3 in Tuesday's Audi FIS Ski World Cup giant slalom in Kronplatz, the last World Cup GS before next month's World Alpine Ski Championships.
Federica Brignone took the victory, only her third World Cup win and her second in giant slalom. World Cup giant slalom leader Tessa Worley of France was second, while Brignone's teammate Marta Bassino finished on the podium in third.
Colorado's Mikaela Shiffrin rebounded from a disappointing first-run to lay down a solid second run and finish fifth. Shiffrin, starting third in the first run, got caught up in some grippy snow just a few gates into her first run and finished ninth. She then skied a brilliant second run, especially on the bottom shadowed section of the course, which caused fits for numerous racers.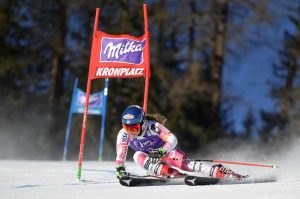 Switzerland's Lara Gut finished fourth and continued to nibble away at Shiffrin's overall World Cup lead, taking another five points. Shiffrin still leads the overall standings with 1,053 points, while Gut is second with 923 and Worley is third overall with 688 points. Worley leads the overall World Cup giant slalom standings by 120 points over Shiffrin and 22 points over Gut.
Up next, the women's World Cup heads to Cortina d'Ampezzo, Italy for downhill and super G races Saturday and Sunday.
OFFICIAL RESULTS
FIS Alpine Ski World Cup
Kronplatz, Italy – Jan. 24, 2017
Women's Giant Slalom
| Rank | NATION | Name | Run 1 | Run 2 | Tot. Time | Diff. Time | WC Points |
| --- | --- | --- | --- | --- | --- | --- | --- |
| 1 | ITA | BRIGNONE Federica | 1:02.17 | 1:07.88 | 2:10.05 | | 100 |
| 2 | FRA | WORLEY Tessa | 1:02.32 | 1:08.28 | 2:10.60 | +0.55 | 80 |
| 3 | ITA | BASSINO Marta | 1:02.43 | 1:08.19 | 2:10.62 | +0.57 | 60 |
| 4 | SUI | GUT Lara | 1:02.63 | 1:08.18 | 2:10.81 | +0.76 | 50 |
| 5 | USA | SHIFFRIN Mikaela | 1:03.60 | 1:07.54 | 2:11.14 | +1.09 | 45 |
| 6 | SWE | HECTOR Sara | 1:04.73 | 1:06.43 | 2:11.16 | +1.11 | 40 |
| 7 | AUT | SCHILD Bernadette | 1:03.97 | 1:07.27 | 2:11.24 | +1.19 | 36 |
| 8 | ITA | CURTONI Irene | 1:04.11 | 1:07.44 | 2:11.55 | +1.50 | 32 |
| 9 | SUI | RAST Camille | 1:04.52 | 1:07.29 | 2:11.81 | +1.76 | 29 |
| 10 | GER | REBENSBURG Viktoria | 1:03.07 | 1:08.77 | 2:11.84 | +1.79 | 26 |