Reno, NV – With a break in the weather following record-breaking snowfall this month, and the National Weather Service forecast calling for mostly sunny skies this weekend, Mt. Rose Ski Tahoe will celebrate all of that new snow with the return of its annual German Beer Garden event today.
"The German Beer Garden is one of our guests' favorite annual events, and this year we have even more to celebrate thanks to the abundant snowfall we've received so far this winter," said Mike Pierce, director of marketing at Mt. Rose Ski Tahoe. "We're not even halfway through the winter, and Mt. Rose has already received 132 percent of our average annual snowfall."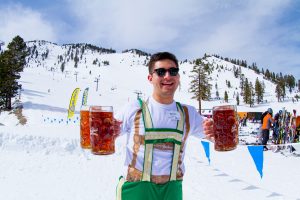 Scheduled from 10:30 a.m. to 2:30 p.m., the German Beer Garden at Mt. Rose Ski Tahoe will feature two-person team stein races at 11:45 a.m., 12:30 p.m. and 1:15 p.m., brats, beer and pretzels. The event will take place on the deck of the Winters Creek Lodge, and is open to all resort guests.
Season-to-date, Mt. Rose Ski Tahoe has received 462 inches of snow, with an average base depth of 162 inches. All lifts and trails are open, and mid-winter conditions exist across the entire mountain.
Mt. Rose Ski Tahoe is open daily from 9 a.m. to 4 p.m. conditions permitting.