Stockholm, Sweden – There are times when a slight mistake pays dividends in ski racing. And for Mikaela Shiffrin, her first run mistake was the key to victory in Tuesday night's Audi FIS Ski World Cup city event.
In the first race of the evening, in front of thousands of energized Swedish fans, Shiffrin and Adeline Baud Mugnier of France were locked in a tight battle until Shiffrin went wide with seven gates to go. However, Baud Mugnier, sensing an upset over the No. 1 seed, pushed too hard and fell into Shiffrin's lane.
"Starting first, I had really no idea how the course was going to run, and I just tried to go for it," said Shiffrin, of Eagle, Colo. "There was a bit of bumpiness at the bottom of the course, and I just didn't stand on my outside ski, but Adeline kind of hit the bumps and shot into my course. Actually it was quite lucky for me that I made that mistake and slowed down, because if I hadn't she might have hit me."
From then on, it was Shiffrin who was doing the hitting, knocking out the next two competitors she faced – Canada's Marie-Michele Gagnon and home-crowd favorite Frida Hansdotter, to set up the match of the evening that all the fans waited to see – No. 1 seeded Shiffrin against No. 2 seeded Veronika Valez-Zuzulova of Slovakia.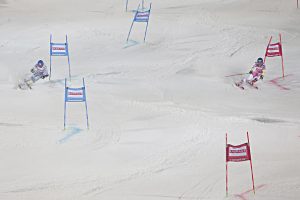 In the finals, Shiffrin took the first run by a slim 0.10. In the second run, Shiffrin took a half-gate lead midway down to the course. But Valez-Zuzulova hit the gas and closed the gap over the jump. However, she carried too much speed into the final gates and blew out of the course, allowing Shiffrin to cruise to her first career city event victory and 100 World Cup points.
Shiffrin now leads Swiss skier Lara Gut by 180 points in the chase for the overall World Cup title. Shiffrin also holds the overall World Cup slalom lead with 66 points over Valez-Zuzulova with two slalom events remaining this season.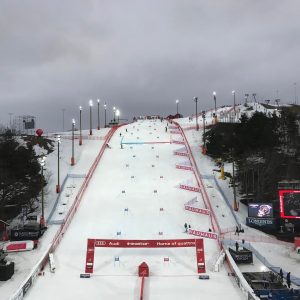 In the men's race, Norway's Aleksander Aamodt Kilde upset No. 1 seed Marcel Hirscher of Austria in the tightest race of the evening, taking the first run by 0.02 and second by 0.03. However, Kilde was ousted in the next round by Alexis Pinturault of France, who advanced to the finals to face off against No. 15 seeded Linus Stasser of Germany.
Stasser eliminated No. 2 seeded Henrik Kristofferson of Norway in the opening round, then defeated Italy's Stafano Gross and Swedish favorite Mattias Hargin to face Pinturault in the finals. Stasser took the first run over Pinturault by 0.13, and then held on for a 0.04 victory in the second run of the finals to win his first career World Cup event.
Despite his elmination on Tuesday night, Hirscher still leads the men's overall World Cup Standings with 1,275 points. Norway's Henrik Kristoffersen and Alexis Pinturault of France are tied for second with 843 points. Hirscher also leads the World Cup slalom standings with 635 points.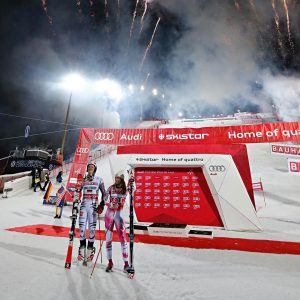 "It is a great event," Shiffrin added about the night race in the center of Stockholm. "The crowd is awesome. It was fun, it was really fun. I think it's really good for the sport (for the fans) to be able to see that live head-to-head action, the battles, and I'm happy to come away with the win."
Up next, the 2017 World Alpine Ski Championships kick off in St. Moritz, Switzerland, next week with women's super G on Tuesday, Feb. 7 and men's super G on Wednesday, Feb. 8.
OFFICIAL RESULTS
FIS Alpine Ski World Cup
Stockholm City Event – Stockholm, Sweden – Jan. 31, 2017
Women
| Rank | NATION | Name | Tot. Time | Diff. Time | WC Points |
| --- | --- | --- | --- | --- | --- |
| 1 | USA | SHIFFRIN Mikaela | | | 100 |
| 2 | SVK | VELEZ ZUZULOVA Veronika | | | 80 |
| 3 | NOR | LOESETH Nina | | | 60 |
| 4 | SWE | HANSDOTTER Frida | | | 50 |
| 5 | SUI | MEILLARD Melanie | | | 40 |
| 5 | ITA | COSTAZZA Chiara | | | 40 |
| 5 | CAN | GAGNON Marie-Michele | | | 40 |
| 5 | SVK | VLHOVA Petra | | | 40 |
| 9 | FRA | BAUD MUGNIER Adeline | | | 15 |
| 9 | SUI | FEIERABEND Denise | | | 15 |
| 9 | SLO | BUCIK Ana | | | 15 |
| 9 | AUS | TRUPPE Katharina | | | 15 |
| 9 | USA | STIEGLER Resi | | | 15 |
| 9 | AUS | SCHILD Bernadette | | | 15 |
| 9 | CZE | STRACHOVA Sarka | | | 15 |
| 9 | SUI | HOLDENER Wendy | | | 15 |
Men
| Rank | NATION | Name | Tot. Time | Diff. Time | WC Points |
| --- | --- | --- | --- | --- | --- |
| 1 | GER | STRASSER Linus | | | 100 |
| 2 | FRA | PINTURAULT Alexis | | | 80 |
| 3 | SWE | HARGIN Mattias | | | 60 |
| 4 | GBR | RYDING Dave | | | 50 |
| 5 | NOR | KILDE Aleksander Aamodt | | | 40 |
| 5 | ITA | RAZZOLI Giuliano | | | 40 |
| 5 | ITA | GROSS Stefano | | | 40 |
| 5 | RUS | KHOROSHILOV Alexander | | | 40 |
| 9 | NOR | FOSS-SOLEVAAG Sebastian | | | 15 |
| 9 | NOR | NORDBOTTEN Jonathan | | | 15 |
| 9 | FRA | LIZEROUX Julien | | | 15 |
| 9 | AUT | MATT Michael | | | 15 |
| 9 | SUI | YULE Daniel | | | 15 |
| 9 | ITA | MOELGG Manfred | | | 15 |
| 9 | NOR | KRISTOFFERSEN Henrik | | | 15 |
| 9 | AUT | HIRSCHER Marcel | | | 15 |