Park City, UT – Over 10,000 fans packed the slopes of Utah's Deer Valley Resort on Saturday night to watch freestyle skiing's biggest show worldwide – dual moguls on the Champion run. And the show didn't disappoint. Despite showing some kinks in his armor, Canadian superstar Mikaël Kingsbury prevailed over teammate Marc-Antone Gagnon for the win, with rising Australian star Brodie Summers third for a career first podium. For the women, it was World Cup leader Britteny Cox of Australia knocking off Canada's Andi Naude – but only after Cox survived a strong run from 16-year-old American Olivia Giaccio, of Redding, Conn., in the semifinals. American Jaelin Kauf, of Alta, Wyo., finished third for the women.
This is not the first time Kingsbury has claimed double gold in Deer Valley, having first won in 2015. He had just won the Deer Valley singles on Thursday night.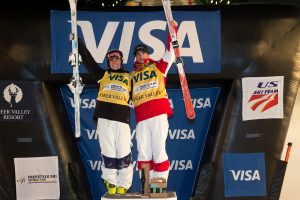 "It's crazy to pull off back-to-back wins in Deer Valley," he said. "For the competitive moguls community, this event rivals the Super Bowl. This weekend I skied strategically, I knew everyone was going to challenge me. It was important to stick to my game plan."
With his 37th World Cup victory Kingsbury, who now has a total of 58 medals on the circuit, has exceeded the legendary Edgar Grospiron's record for most World Cup podiums.
Gagnon, who lost the final duel against Kingsbury to claim second place, seems to have found his groove as he shook off any evidence of a bad shoulder injury sustained in September 2015.
"Being the first dual moguls event of the season, it's important to be fast, and that's what I focused on today. It worked out well," stated Gagnon.
On the women's side, Cox has been riding high this season with three victories and four podiums in five events so far this season, including a third-place performance on Thursday night in the Deer Valley single moguls competition, but Saturday night in Deer Valley would be her first career dual moguls finals.  Despite the pressure, the steep Deer Valley course, and a lightning-fast run by Naude, Cox kept her final run as cool and as smooth as she has all season, linking her turns expertly and stomping her airs while beside her, Naude unraveled in the second half of the course.
"It's just been phenomenal," Cox said of her experience in Deer Valley, "Just the whole way we've built up this season with my support team, my family – who are here today from Australia – and my teammates. I've been learning so much from them this season and to see Brodie (Summers) get his first podium today is incredible."
Despite her difficulties, Naude was nevertheless pleased to clinch her second World Cup podium of the season by finishing in second on Saturday night.
"I'm so happy to be on the podium tonight. It was such a great race. Everyone was pushing it, and the course was really fun to ski. It was difficult, but it brought out the best in all of us," Naude said.
Kauf had a strong evening, eventually losing to Naude in the semi finals and facing Giaccio for third place.
"I knew I needed to ski fast and beat everyone down the middle part of the course," said Kauf. "Olivia was really killing it out there. She was really pushing me and it was awesome to see her out there."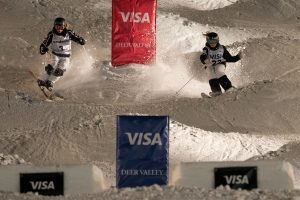 For the U.S. Freestyle Ski Team, the storyline was a wealth of positive movement by a young team that is on the verge of a breakout. Of the 32 athletes that made it into the finals, 13 were Americans – six men and seven women. Along the way, they did some damage up against some of the sports' best. At the end of the night, there were three American men in the top eight, three women in the top six.
"A lot of the young skiers stepped it up tonight and skied really well," said Moguls Head Coach Matt Gnoza. "Emerson Smith stepped up with a nice middle section, locking in his turns. Joel Hedrick stepped it up into the top 16. A lot of guys are making their first World Cup finals."
Giaccio was a good example. She won four straight duals to find herself standing next to the World Cup leader with a chance at the finals. While Cox took the win, Giacco never backed down and pushed her bump after bump right down to the finish. And in the small final against Kauf, the World Cup rookie again matched her turn for turn down most of the course, losing the battle but recording a career best fourth place finish.
"I love duals – it's super fun and a great chance for redemption," she said. "Today I didn't have any expectations – just to go out and ski my run. I was pushing pace all day – there are some speedy girls up there. This is a great course on Champion and an awesome atmosphere."
Emerson Smith (Dover, Vt.), just 19 and in only his fifth World Cup, had a career best eighth. Along the way he took three notable wins – including knocking out teammate Troy Murphy (Park City, Utah) – before skiing out in a brilliant matchup against Summers.
Dylan Walczyk (Rochester, N.Y.) led the U.S. men in fifth. Murphy, who led with a fifth two nights earlier, was knocked out by Smith and finished 13th. Thomas Rowley (Long Beach, N.Y.) had another good night, finishing sixth.
"I think Murphy and Rowley are in line to start getting some podiums," said Gnoza. "Ever since Ruka, they've been making steps each week – and the next step is the podium."
Morgan Schild (Rochester, N.Y.), who scored a World Cup win on Thursday night, failed to make it out of the qualifying rounds. Keaton McCargo (Telluride, Colo.) ended up sixth and remains the top-ranked U.S. women in the World Cup standings at six. K.C. Oakley (Piedmont, Calif.) continued her strong return from injury season in tenth.
World Cup moguls teams are now heading to Phoenix Park in PyeongChang, South Korea for the Olympic moguls and aerials test events this weekend.
OFFICIAL RESULTS
FIS Freestyle Ski World Cup
Visa Freestyle International – Deer Valley Resort – Park City, UT
Feb. 4, 2017
Men's Dual Moguls
| Rank | NATION | Name | Tot. Points | WC Points |
| --- | --- | --- | --- | --- |
| 1 | CAN | KINGSBURY Mikael | | 100 |
| 2 | CAN | GAGNON Marc-Antoine | | 80 |
| 3 | AUS | SUMMERS Brodie | | 60 |
| 4 | FIN | SALONEN Jimi | | 50 |
| 5 | USA | WALCZYK Dylan | | 45 |
| 6 | FRA | CAVET Benjamin | | 40 |
| 7 | USA | ROWLEY Thomas | | 36 |
| 8 | USA | SMITH Emerson | | 32 |
| 9 | SUI | TADE Marco | | 29 |
| 10 | CAN | MARQUIS Philippe | | 26 |
Women's Dual Moguls
| Rank | NATION | Name | Tot. Points | WC Points |
| --- | --- | --- | --- | --- |
| 1 | AUS | COX Britteny | | 100 |
| 2 | CAN | NAUDE Andi | | 80 |
| 3 | USA | KAUF Jaelin | | 60 |
| 4 | USA | GIACCIO Olivia | | 50 |
| 5 | FRA | LAFFONT Perrine | | 45 |
| 6 | USA | MCCARGO Keaton | | 40 |
| 7 | CAN | DUFOUR-LAPOINTE Chloe | | 36 |
| 8 | AUS | PARKS Nicole | | 32 |
| 9 | CAN | ROBICHAUD Audrey | | 29 |
| 10 | USA | OAKLEY K C | | 26 |