Munich, Germany – At this week's ISPO trade show in Munich, the French brands PIQ and Rossignol showcased the first-ever "connected ski". The new product integrates a PIQ Robot artificial intelligence device in the Rossignol Hero Master ski.
PIQ and Rossignol demonstrated a working prototype at their respective ISPO booths. The skis are embedded with PIQ's GAIA Intelligence — the first artificial intelligence system that autonomously analyzes sports motions.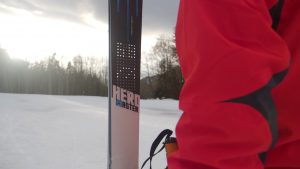 The PIQ Robot nano-computer embeds an LED display in front of the ski binding to give rear-time feedback to the skier as he or she is cruising down the mountain. PIQ's technology is able to understand and analyze microscopic variations in skiing movements, including  speed, angulation in turns, explosivity in transitions from one edge to the other, and the G-force generated in every turn, among many other metrics.
Rossignol and PIQ are now moving forward to a new step in their partnership by integrating their respective technologies in one single product. "Since the founding of PIQ, we've always had that vision of embedding PIQ directly in the skier's gear to give them the best experience possible," says Cédric Mangaud, CEO of PIQ Sport Intelligence. "Thanks to the work of our two teams, we're now extremely proud to unveil today at ISPO what is truly a breakthrough innovation with the world's first connected ski."
"With this technology, Rossignol is now the world's first manufacturer to create a connected ski. This is a new step for our sport and Rossignol is pushing the envelope," adds François Benaben, VP Sales, Marketing, and Communication of Rossignol. "The integration of the PIQ Robot in our skis could significantly enrich the skiing experience and allow our users to better understand and analyze their performance."