PyeongChang, South Korea – One year from now, the best winter sport athletes in the world will descend upon PyeongChang, South Korea for the 23rd Olympic Winter Games. This week, the World Cup moguls and aerials athletes will get their first taste of the Olympic venues when they compete in an official test event Friday and Saturday.
Located 25 minutes from the Alpensia Sports Park in the PyeongChang mountain cluster, Bokwang Phoenix Park will play host to freestyle and snowboarding events in 2018. The mogul and aerials events are part of a series of test events throughout the month of February, giving athletes and staff a chance to familiarize themselves with the competition sites and surroundings.
"These test events are good opportunities to check things out and give us an idea of what to expect for the Games," said U.S. Ski Team Freestyle Program Director Todd Schirman. "Obviously the environment a year from now will be different, but every note we can take away from this week will help us ensure we have the best plan in place to compete at the highest level in 2018."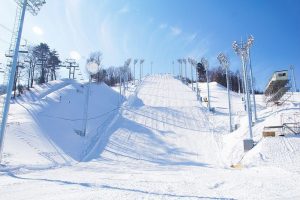 After a successful showing on home soil last week, including podium finishes from Kiley McKinnon (Madison, Conn.), Jaelin Kauf (Alta, Wyo.) and Morgan Schild (Rochester, N.Y.), both U.S. teams are heading full steam ahead into the second half of the World Cup season, which includes the test event as well as qualifying events for the 2017 World Championships.
"I'm hoping to keep my results up and ski progressively in these last few World Cups," said Schild. "This week's event in PyeongChang is not only a chance to get to ski the Olympic course, but also a chance for me to motivate myself and get a sense of exactly what it is I'm looking to accomplish a year from now."
Competition in PyeongChang beings on Friday with the men's and women's aerials competition. Qualifications will begin at 1:40 p.m. local time, with finals at 7:00 p.m. Saturday's mogul qualifications kick off at 3:20 p.m., with finals at 7:00 p.m.