Park City, UT – The best aerialists in the world put on a fantastic show in front of thousands of fans on Friday night at the Visa Freestyle International at Deer Valley Resort in Park City. Kiley McKinnon, of Madison, Conn., landed her first podium of the season, finishing second on her home turf and putting herself one step closer to the 2018 Olympic Winter Games.
With a bit of wind and constant snowfall, coaches had to work with the athletes to get the speeds just right so they could land their jumps. The U.S. coaches nailed it, advancing McKinnon, Elle Gaudette (Maple Grove, Minn.) and Madison Olsen (Park City, Utah) to the finals. McKinnon's full, full with a score of 79.83 advanced her to the super final. She then upped the degree of difficulty, landing a full, double full for a score of 95.17, just 0.35 out of first place.
"The conditions were tough tonight," said McKinnon "They were OK during qualifications, but as soon as we started training for finals the snow was dumping and it was extremely hard to get speed. We didn't get many jumps in, so I was just hoping that I was going to be able to pull it out for finals, and luckily I did. I have to thank my coaches for putting me in the right spot and having the right speed."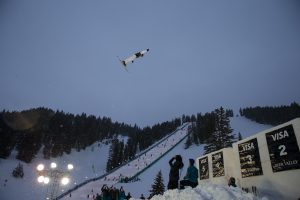 McKinnon, who was crowned U.S. champion last month in Lake Placid, N.Y., has been building over the past few events, becoming more and more confident with her jumping. Her second place finish will count towards qualification criteria for the 2018 Olympics, which are just over a year away.
"I was feeling good after nationals, where I landed my three jumps," stated McKinnon. "I had a tough time earlier this season, but to be able to be here in Deer Valley with my friends and family and make it on the podium in an Olympic qualifying event is amazing and I couldn't be more happy."
Australia's Lydia Lassila, who recently returned to competition after an extended absence, took the win for the women with a full, double full and a score of 95.52. China's Xu Mengtao was third with a double full, full and a score of 92.35.
"It's been a couple of years (since my last victory)," Lassila said, smiling from the finish area, "but this is why I came back to competition, this feeling. Under the lights, in these tough conditions, and I can still do it! It's amazing."
On the men's side, China's Qi Guangpu slayed his final jump, stomping a double full, full, full for a score of 128.96 to take the win. Belarus' Stanislau Hladchenko was second and Russia's Stanislav Nikitin third.
"It's a beautiful night for me," said Qi of his win, "So much snow, tough conditions, but I'm very happy to win."
Qi's win vaulted him over Belarussian Anton Kushnir and back into top spot on the World Cup leaderboard.
Mac Bohonnon (Madison, Conn.) was gunning for another podium finish on home soil alongside his teammates Eric Loughran (Pelham, N.H.), Alex Bowen (Springville, N.Y.) and Nik Seemann (Winter Park, Colo.). Bohonnon and Loughran advanced to the super finals – with Bohonnon throwing a double full, full, full for a score of 114.48, just missing the podium with a fourth place finish.
"It would have been great to be on the podium, but I'm happy I was able to put down three solid jumps," said Bohonnon. "The conditions were really tough out here tonight, but it was still a great event. Deer Valley never disappoints, and it's great to compete in front of this crowd."
Friday night's event was also an opportunity to recognize the 15th anniversary of the 2002 Olympic Winter Games in Salt Lake City. Various venues around Park City, including the White Owl aerial hill, continue to be used for national and international competitions, including the Visa Freestyle International and the upcoming 2019 FIS Freestyle, Snowboard and Freeski World Championships.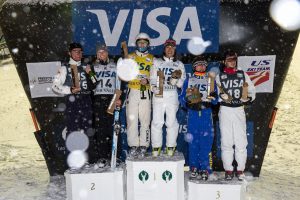 "It was a fantastic competition tonight," said 2012 presidential candidate Mitt Romney, who served as president and CEO of the Salt Lake Organizing Committee for the 2002 Olympic Winter Games. "The snow made it a challenge for the athletes, but it was wonderful to watch. Our athletes competed at the top level, which is very exciting and very encouraging. It's so wonderful that these venues are all being used in the sport today. It's creating a legacy for young athletes to be able to use these venues and to participate in Olympics in the future."
The World Cup aerialists will now move on to an Olympic test event at Phoenix Park in PyeongChang, South Korea on Feb. 10. The Visa Freestyle International concludes Saturday night with men's and women's dual moguls.
OFFICIAL RESULTS
FIS Freestyle Ski World Cup
Visa Freestyle International – Deer Valley Resort – Park City, UT
Women's Aerials
| Rank | NATION | Name | Tot. Points | WC Points |
| --- | --- | --- | --- | --- |
| 1 | AUS | LASSILA Lydia | 95.52 | 100 |
| 2 | USA | MCKINNON Kiley | 95.17 | 80 |
| 3 | CHN | XU Mengtao | 92.35 | 60 |
| 4 | RUS | NIKITINA Liubov | 89.88 | 50 |
| 5 | CHN | SHEN Xiaoxue | 71.20 | 45 |
| 6 | CHN | YANG Yu | 48.62 | 40 |
| 7 | CHN | ZHANG Xin | 65.00 | 36 |
| 8 | RUS | SPIRIDONOVA Kristina | 62.39 | 32 |
| 9 | USA | GAUDETTE Elle | 54.81 | 29 |
| 10 | USA | OLSEN Madison | 50.17 | 26 |
Men's Aerials
| Rank | NATION | Name | Tot. Points | WC Points |
| --- | --- | --- | --- | --- |
| 1 | CHN | QI Guangpu | 128.96 | 100 |
| 2 | BLR | HLADCHENKO Stanislau | 114.60 | 80 |
| 3 | RUS | NIKITIN Stanislav | 114.60 | 60 |
| 4 | USA | BOHONNON Mac | 114.48 | 50 |
| 5 | BLR | GUSTIK Maxim | 109.50 | 45 |
| 6 | USA | LOUGHRAN Eric | 98.41 | 40 |
| 7 | CAN | ROCHON Olivier | 100.00 | 36 |
| 8 | SUI | GYGAX Nicolas | 98.80 | 32 |
| 9 | USA | BOWEN Alex | 88.05 | 29 |
| 10 | RUS | BUROV Maxim | 74.34 | 26 |