Warren, VT – Vermont's Sugarbush Resort is inviting expert skiers and riders ages 14 and under to compete in the highly challenging and technical run down Castlerock's Lift Line this weekend.
The Junior Castlerock Extreme is one of four Junior Qualifier events for the Ski the East Freeride Tour (SEFT), and the only way for someone under the age of 14 to qualify for five of the six main SEFT stops. The top eight kids of each qualifying event, including Sugarbush's Junior Castlerock Extreme, will be asked to take part in the tour.
Young skiers are also competing for a chance to participate in the main Castlerock Extreme event in March, a 20-year Sugarbush tradition on Sugarbush's toughest terrain. There are ten Castlerock Extreme spots reserved for the top competitors of the Junior Castlerock Extreme Challenge.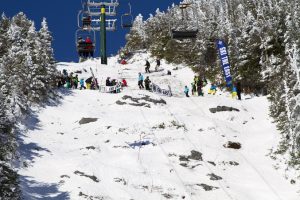 The Castlerock Extreme is a stop on the Ski the East Freeride Tour, and offers awards for the top three men and the top three women participants. Any expert skier over the age of 15 can sign up for the Castlerock Extreme Challenge. This event usually sells out quickly, but registration is open until March 2nd, or until it is sold out. For more information about the main event or to sign up, visit www.sugarbush.com.
The Junior Castlerock Extreme is currently sold out. Those who are still interested may contact events@sugarbush.com to be added to the waiting list.